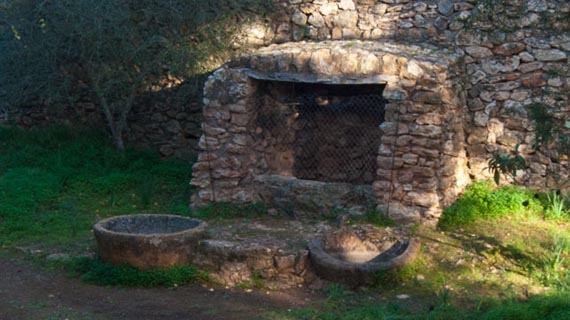 Of the mythical places known by the natives of Ibiza, there is one that stands out by its roots and, above all, for its antiquity. The Pou de Forada is a well of historical importance a lot. To situate us, should take into account that the only River of the Balearic Islands is fairly far to the North of the island. Then how survived the inhabitants of small villages on the island? The archaeological remains have shown that the use of cisterns were the basis of these villages. But, how do they endured transfers from one point to another of the island? And livestock? Maybe the solution is found in these wells, and this in particular is dated between the 2ND century BC and the 1st ad
The location of this well is strategic, almost equidistant between the towns of Sant Rafael, Sant Mateu and Santa Inés some six kilometers each. Santa Gerturids and Sant Antoni are a similar distance. Today it is not easy to find since they are secondary roads, although you can serve as reference the road to Sant Rafael to Santa Ines.
One of the highlights of Pou of Forada is that it does not present the typical circular, but appears as an entry in a small mound Hill. This complicates the location by road, after reaching a plateau, perfect for a Sunday day, we found a sunken section that leads to the mouth of the well. For safety, the entrance is covered by a wire mesh. Next to it, two bowls for watering the animals, one of them in perfect condition, end silhouette to this landscape.
The festivals of this well are celebrated in October, returning to the popular roots. Although the well is almost not used, their social mission has not yet be given for missing.