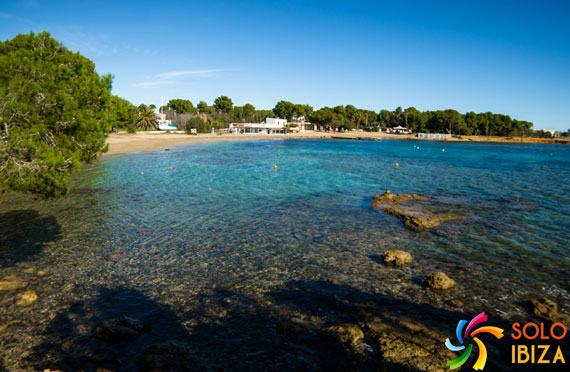 Cala Pada
There are beaches in Ibiza that do not stand out due to its greatness or its bustle. Cala Pada is one of them. It is located near Niu Blau. So much so that it is worth to walk the path that surrounds the coast and joins them.
For those who read us the previous article, this beach is accessed by the road linking Eulália with Es Canar. About three kilometers we will clearly see the indication. Drive the ride isn't bad, but certainly has no comparison to stroll in boat that we can make from Santa Eulalia. A small Jetty is more than enough to pass a less-perfect day.
Discovering Cala Pada
Close your eyes and imagine two hundred meters of fine sand bathed by turquoise blue water. Ten meters of width where lying sunbathe enclosed between a green pine forest. Places to explore on one side of the Cove. And of course a bar where take a fresh sugarcane on tightening the heat. Now open your eyes and look at the upper picture or video that you accompany.
We are in a perfect spot for the snorkelling. But also to activities like the pedal. It will get you attention surely the presence of kitesurfers. They are those men who assembled in one table are seized to a kite and the see to really incredible speeds. They come from cane Martina, within easy walking distance.
More trekking in Cala Pada
If not you have entered you desire to visit on your next vacation, leave to tell you something. On the road that leads to Niu Blau, in less than a kilometre away, you will find a small Cove where, with care, you can descend to a totally unspoilt corner. The beauty of the landscape in this place is simply amazing. And quiet also.
But we still have a long way to go beach. In particular that separates us on the other side of the beach of S'Argamassa. While in the past this beach left much to be desired, have today changed its appearance. But already we are getting where we do not touch: in another article.
Now, if you are interested in more information of Cala Pada, per our tokencan happen. Although you may think that the ideal would be to spend all your vacations on the beach. You it will be easy If you are looking at our website. There are very close.