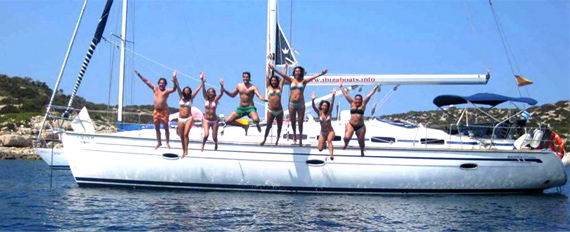 In a true natural paradise, the Balearic Islands are a destination for lovers of the spa tourism and water sports. Therefore, that the yacht in Ibiza is a great activity to explore the coast, visit its ports and enjoy a different break.
A yacht of luxury or a small boat?
Sailboats for rent in Ibiza include options for all tastes and for different budgets. From a luxury yacht to a small boat, all the alternatives have their charm when it comes to sail the waters of the Mediterranean.
For those seeking a superior experience, yachts and tall ships offer greater comfort, allowing even rent a boat for several days and live comfortably on board.
Fast and lightweight boats and some models of catamarans are the most suitable option for a few days adventure, or even for a single day rental: this plan is an excellent complement of the trip to the Balearic Islands and offers a great experience at a more affordable price.
Ideas to enjoy on board
During the trip in a boat for rent in Ibiza, it is possible to live a day of relaxation or a party on board.
Many travelers choose to cover a sailboat as a backdrop to celebrate an event: birthdays, anniversaries, or an intimate party for the newly-weds are some exceptional events that can live aboard a boat for rent in Ibiza.
Of course, holidays are a reason in themselves to celebrate: a meeting with friends, a family trip or a romantic ride on a sailboat along the coasts of Ibiza provide the perfect excuse to open a bottle and enjoy.

Tips for an optimal experience
If this is the first time that you decide to rent a boat in Ibiza, some basic tips will be of help to provide for those details that perhaps you have not considered.
Before boarding, be sure to take with you everything you will need during the period that you will be on board. Please note that, if you forget something, it will not be easy to go back to look for it. Go shopping before the trip and get a good supply of food, medicines and changes of clothing.
Holds everything can fall overboard: recalls that rolling of the water or the breeze marina can make objects move. The same counts for clothing: hats, shoes and accessories well secured to the body, to avoid flying out of your reach.
With these points in mind, you do not have more than rent your boat in Ibiza and enjoy a wonderful experience.