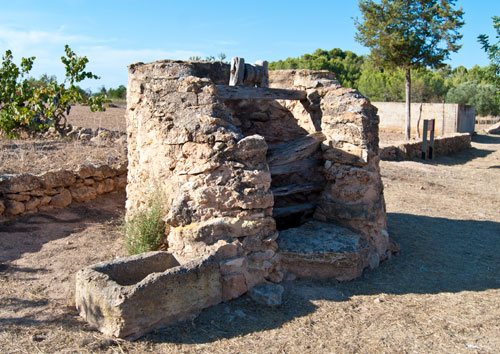 Specific to our appointment with history, today we decided to run a route that included various elements of relevance in Ibiza. Indications that public institutions have been placed in Ibiza would us to ensure valuable time lost. And we are not.
The first thing we did was print a map with enough detail to us. Our map does not fail and by indications that several farmers had been given to us, more posters that we hoped to find, made to think it would not be difficult to find the Pou des Rafals.
From a historical point of view, Wells (pou) had great importance until the arrival of the tap water as they say. They served not only as watering hole to the beasts of burden, cattle or even the walkers who moved from one point to another of the island. They were a place of meeting, courtship, the different bands that made up each of the four rooms into which the island is divided. Even today festivals around these wells Recalling tradition, are held although the times have certainly changed.
In short, talked about some centuries of history, where the majority of the ancestors of the Islanders have formed couples. It seems important. Someone seems to have summed up in four stones without much interest. It is clear that the rental of umbrellas and hammocks seems much more productive. Why bother to cue properly.
As well, take the road that part of Sant Josep and Sant Antoni. It is a good road, although of a single lane for each direction. Leaving behind the village of Sant Agustí (St. Augustine) we have the ubiquitous sign pink indicating the turn-off to Pou des Rafals. We leave behind the detour and begin the pilgrimage.
After a couple of miles, I begin to think that we won't find more little signs. Dusty and many houses, but well, anywhere. We found a woman of advanced age which we asked. It was clear, we have spent. We are back on our wheels (at five in the afternoon in midsummer, you go by car, or you stay at home) and arrived at the entrance of the road. At the starting point.
With a little logic, everything is solved. If wells were used for watering the beasts, these had to be close to the road. We look to our left and nothing. We look to our right and… bingo. 200 m leaving the road, partially hidden by a vineyard, there is a pink sign perpendicular to the road. To see it go. A tad further, a silhouette shaped well. I knew it. I should never miss the fourth installment of Indiana Jones.
Stories and romances in the Pou des Rafals.
After remember a little Halloween riding, more the ancestors of a couple of officials, got off the car and roared off to the well. The stones are very worn. There is a small watering hole at floor level. ! If stones could talk! The well is dry. There is no bucket or ropes, or protection either. I think that long ago that no one passed through here with a camera. It is normal, not charge entry. Crossing the Middle arch which protects well, it is the stroller. It is made of wood. And the impression is that the wood is very old. A bit of nostalgia, of the past feels. I would have liked to see the stroller working to get a little fresh water. In another life this time. I doubt that someone give these four stones the importance they had in their day. I doubt that anyone remember them more than to name it in a booklet and end up saying: "how much history has Ibiza".
If one day I find when he is some celebration, I promise to edit these lines and revisit Pou des Rafals. Meanwhile, rest in peace.
Promise is a debt. The celebrations of Pou des Rafals held the Sunday after August 28.
You will find more information on the tab of Pou des Rafals