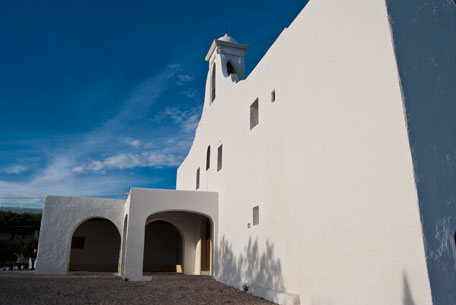 When we take the road that leads to Sant Antoni, Ibiza, just before entering the tunnel, we are a people that fly over us. We speak of Sant Rafael. This town is well known for the residents of the island for two main reasons. The first is by its water, because it has a water supplier to fill the canisters in an economic way. And is that the tap in Ibiza there who drink it.
But is that in addition to your water (and roadside restaurants), Sant Rafael is listed as a craft centre. The reason is simple. Multiple premises of craftsmen, the most traditional pieces, such as the sea cucumbers, they join unique specimens of the oldest pottery, which inherited the punica-fenicia culture techniques, tools can be seen in the Archaeological Museum of Ibiza are still used.
The Church of Sant Rafael
If outside little this demonstration cultural, from the road we can observe a construction that called it attention. The Church of Sant Rafael is raised to greet to the traveller. For approach us to she must provide attention to the entry of the village, as it roundabout that us gives it welcome towards the inside of the town has a small deviation towards the another end. It is this road where will get to one of those unknown places where view relax looking at the Valley of the upper city. Flowers and more flowers host a building of the eighteenth century that was severely damaged and looted during the Civil War, but was able to recover and replicate their most precious values, such as the high altar. In addition to its characteristic porches, externally visible buttresses give it a unique appearance.
Us sat a while next to the monument of Joan Mari Cardona, historian, to enjoy of the peace that is breathing. And it is that Sant Rafael well could be called spiritual Center.
Map, information and photos of a Sant Rafael