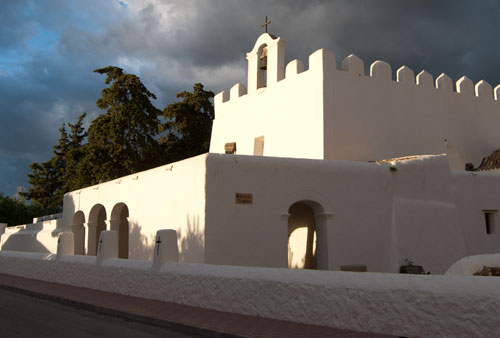 Who have visited Ibiza before the construction of new roads, remember Sant Jordi as it always was. A place of passage between the salinas area and the walled city. Those who have lived the transition between one and another time, have seen as the coming and going of cars, trucks and buses has become a quiet place, with great value as a residential area, and most importantly, with an impressive historical and touristic value. Less Saturday morning, when the people stirred.
Because there are not much complication. Sant Jordi is located to half of way between the airport and Ibiza. The construction of the new highway, referred to above, more people has respected the harmony of a people ever. Taking the highway, we should just take the perfectly suitable diversion to cross streets. Despite this new building, still remain roads secondary that give something of traffic to the core urban. They will lead to Sant Francesc, or beaches such as las Salinas and Es Cavallet, a route along the trails of salt.
However there is a small road that connects with the end of playa d' Bossa. There's nothing in particular, except that it runs between plows, and resembling half way, airplanes over our land. A path that still is traversed during the Rocío of Ibiza, coinciding with the popular Andalusian party.
What is going to find the tourist.
The same as in any residential area of any city, or almost. The strategic position of Sant Jordi , possessor of one of the most impressive defensive churches of the island makes it. There are no data from its original date of construction, but we know that it already existed in the 16th century. Its orientation towards the sunset, probably, allowed its occupants quickly distinguish any enemy movement. Although today this detail does not have relevance, to hide the Sun the salinas appear to enter burning, and this reflection upon the Church of Sant Jordi gives you a glorious appearance. One of the most beautiful sights that we have enjoyed with the camera.
And we could not dismiss this article without naming the Hippodrome de Sant Jordi, which even today hosts horse races. Although what is actually known this place, is the diverse market that form on Saturday morning. A tip, if you are in the summer, take advantage of hours. On the tracks of horses there is usually little shadow.