If you are wondering which is the best hotel in Ibiza 5 stars here we will give the best solution. Although the island has very good luxury hotels, it is true it depends a little on your preferences to decide which suits you.
Here is a selection of luxury hotels in Ibiza depending on your tastes.
Best 5-star Ibiza Hotel: luxury agroturismo
The first guest to the party is Cas Gasi, a farmhouse located in the middle of the island. In Santa Gertrudis, you can enjoy an exclusive rural hotel with all the comforts you can imagine and of great beauty.
Best Ibiza city 5 stars Hotel
If we have to opt for a 5 star hotel in Ibiza town, centrally located and with excellent services, the perfect choice is the Mirador de Dalt Vila. We are talking about a very exclusive hotel with just 15 rooms. It is located opposite the old building of the Town Hall, in the historic heart.
Best Beach Hotel in Ibiza 5 star
We must distinguish between the urban hotels and those who, because of their location, are very close to the beach. This luxury hotel mode tends to be more oriented to the wide spaces that allow to enjoy more than the friendly sailor. Our recommendation is the Aguas de Ibiza Lifestyle & Spa, an exclusive accommodation designed for rest and health.
Best Hotel 5 star Club
Here we are presented with a serious problem as we have two luxury hotels that compete for the post of Ibiza's best Club Hotel.
On the one hand we have Hard Rock Hotel Ibiza, located in Playa d' Bossa. It has a large stage where very well received concerts are performed. The best news for the families is that it has children's entertainment programmes because the hotel Yes accepts children.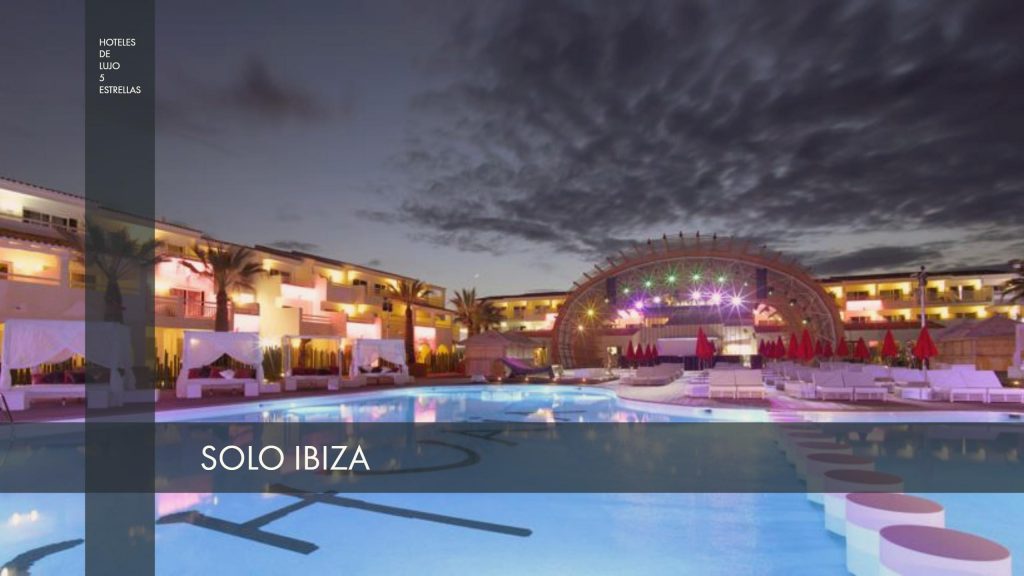 At the other extreme we find with Ushuaia Ibiza Beach Hotel. It is also located in Playa d' Bossa, more likely environment of the island area. In your open space concerts are really impressive. This exclusive hotel is cataloged in the category of hotels for adults by what may be a very good option for those looking for a hotel for couples.