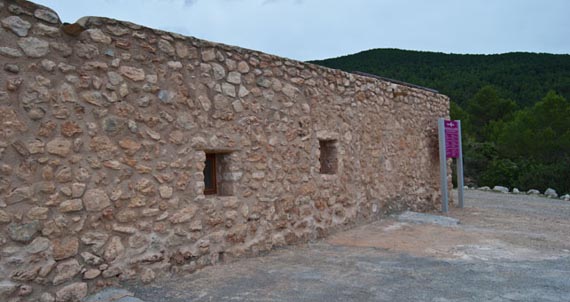 SES countries de Cala D'hort
There is a place in Ibiza somewhat magical. It is not a current place of course. It is difficult to discover. More difficult if it is reached. But once you find it, you understand the reasons that led to its inhabitants, for twenty-five centuries, to choose this place to settle. We are talking about Ses countries of Cala D'hort. Twelve centuries later ended up leaving the place, the reasons are not known, but they must have been very important to leave behind so much beauty.
How to get to Ses countries de Cala D'hort
. By the name, it is clear that it is located close to the beach of Cala D'hort, on the West coast of Ibiza. If there is something that defines Cala D'Hort is the presence facing its coast of the solid mountain of is Vedra and is Vedranell. Together, today day, make up a great Park natural. In the 5th century b.c. probably was the home of some God. The town of Ses countries of Cala D'hort was established with an eye on Es Vedra, far enough away from the coast to avoid being attacked by surprise. Although today more comfortable access by road is giving a rodeo, there is a dirt road that leads directly from the beach to the settlement. It is a good opportunity for closer walk from the beach at a distance of one kilometer and a half approximately. If our route is performs in car, the best option it found in the road that une it beach with the town of is Cubells, turning to the North in the detour more close to the beach.
Exhibitions and deposits in Ses countries of Cala D'Hort
Once we reach Ses Païses, we find two tourist routes. The first, right, leads directly to the site. The second, left, leads to a rural set converted into an extension of the ethnographic museum. It is an interesting exhibition, which explains most relevant constructions of the island, as the old ovens or watchtowers. A curious way to discover a little more about life on the island.
Back to the origin of Ses Païses, we find the site. Eighteen rooms among which is a large tank of water. Next to it, a kitchen of Byzantine times. Five rooms make up the north face, topped with a last aimed at the collection of olives. The above are of indeterminate use today. This face appears fully dedicated to power. In addition to other rooms intended for the treatment of oil, also we find a winery.
Make up the southern face different stores along with the input. Transport already had a great importance with a part of the input for prisoner trucks. The large central hall was the patio and, probably, the main meeting place of the population of Ses countries de Cala D'hort.
You can find more information on the Ses countries de Cala D'hort tab or our video here