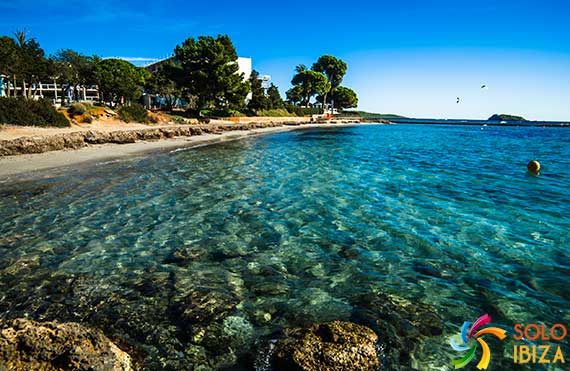 Much has changed the beach of S'Argamassa since our last visit. Both sand and water. The refurbishment of the hotel S'Argamassa accompanied by the creation of a beautiful Pier give another color to this part of the coast, much more careful. But let's get to the important.
We're going to S'Argamassa
The beach is located between Cala Pada and cane Martina. Just half kilometer separates us both. About five kilometers, Santa Eulalia. Of course, the promenade along the shore is more than justified to discover a beautiful coastline.
For those who missed our previous article, we're touring the North Coast towards Es Canar Santa Eulalia. You only have to travel this road to find a convenient access to the right after the turn-off to Cala Pada. Here you will find a fork. Right is ours but we will just have to assist the sign that leads us to the hotel.
Parallel to the shore runs a small road that we use as a car park. It's not very big, but we have never had problems to leave the car under the trees. We are in front of the beach. By forward eighty metres long by about wide ten sand.
Along the coast of S'Argamassa
At the left end beach is protected by a small breakwater, perfect for the days that the tide strikes with force from the North. But also to walk. The panoramic view over the coastline of Santa Eulalia is downright beautiful. Behind us will be a path of about twenty meters, much frequented in summer. It is the one the hotel customers choose to reach the beach of Ca Na Martina. Do not miss it.
At the other end, mentioned Jetty offers a perfect retreat for small boats. Many dan ended here the beach. The truth is that S'Argamassa continues after the pier, although intermittently. After a stretch of low but fairly stony coast closer to a new sandy, little-traveled, but easily accessible. Here we will not find many services but with enough peace of mind. Pine kiss a beach just three meters in width but purely Virgin. The end of this beautiful beach ends at the beginning of Cala Pada.
If it is true that S'Argamassa boasts the most basic services (umbrellas, hammocks, beach bar and pedal boats), the big attractions will find them in Ca Na Martina. Kite surfing and other activities to motor will draw attention on more than one occasion. Due to the short distance, if you apeteciese any of these activities, it would be as simple as cross walk to the next beach.
You can find more information of this beach in our tab.