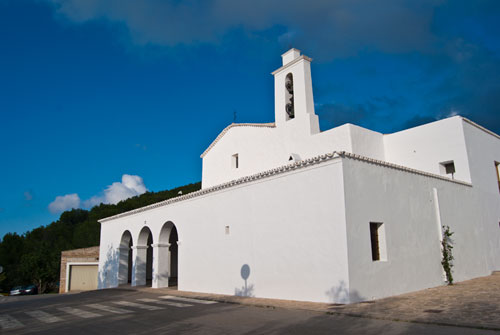 If you ask in Ibiza by Sant Mateu D'albarca, the first thing that you are answering is "good wine". And is this small village is located between fertile valleys, full of plantations, mostly dedicated to the elaboration of the "vi pages", wine farmers.
How to reach Sant Mateu D'albarca
Sant Mateu is located to the North of Sant Antoni, passing through the town of Santa Gertrudis. By Eastern limits with Sant Miquel, and by the surcon Santa Gertrudis, where we find easier access from Ibiza. Cala D'albarca, a place inaccessible steep hills and Mediterranean forest covers the northern area. One of the points most unspoilt of Ibiza which only a few dare to visit.
If start from Ibiza, will have to take the highway in direction to Santa Eulalia. Just a few kilometres you will find the turn-off to Santa Gertrudis. Once we spotted the Church, we find a detour to the left, showing the road to Sant Mateu. After six kilometers in which we contemplate a hill full of pine trees, we arrived at the village.
That we will find in Sant Mateu
The center of the core urban it comprise two houses, a bar and a church of the century eighteen. The rest are estates spread between the three roads that reach Sant Mateu.
One of the things that most surprised us in this town is that peace is absolute. The step of some car towards them houses neighboring is it only that pertuba the silence of the field.
The Church of Sant Mateu is of great beauty. A nineteenth century porch precedes the main ship. Under the Bell Tower, a ship that keeps them chapels of Montserrat and of the Roser.
You can see more information about the Festival of Sant Mateu (of special interest of the wine, in the month of September), map and photographs on the main tab of Sant Mateu as well as the Church of Sant Mateu D'albarca