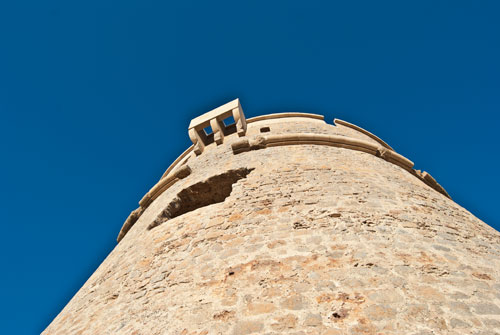 When calmly stroll to Playa d' Bossa, see, in the distance, like the beach ends your configuration in a rocky area. On it, a figure rises to standing out above the rest. We are talking about the sa Sal Rossa Tower or des Carregador. A Tower Defense and surveillance of the coastal zone. The coastal towers on the island have a great peculiarity. The views offered of the coast are simply spectacular. And this time, it was not going to be less.
How to reach la Torre des Carregador
Although to simple view seem easy the access from the beach, not is it option more advisable. The coast is again impracticable nothing more finish the beach. Safely access is by car, taking the road that the salt industry, links with beaches like Es Cavallet or the own Ses Salines with Ibiza. To do this we will have to reach the population of Sant Jordi and take the detour to these beaches. A few minutes we find a mark to turn left towards the Sa Sal torre. Some hundreds of meters more forward abandoremos the vehicle to continue to foot to the tower.
That we find in the Tower of the salt.
An ancient Tower dedicated to the protection of the workers of the salt industry, where before was the dock to load the extracted salt. But also wonderful views across the beach d' Bossa and Formentera. Also can find an of those famous coves lost, just at the feet of the tower. Much less famous than its predecessor, and of course, much less busy.
Official legend of the Sal Rossa Tower.
The information provided by the body competent (unknown which is) is quite explanatory. We have reproduced the text located in the plate of welcome to the tower.
"This defence tower was built in the sixteenth century as a bulwark for the protection of the territory and to protect the inhabitants of the area. As in rural towers, the ground floor door indicates that I was used for this purpose.
The purpose of the tower was protect in a very special way to the people who worked on gathering and load of salt. In the Interior of the Tower they could seek refuge between 150 and 200 people.
This is the only Tower of the Balearic Islands that has a home. Visually controls a part of the island of Formentera and Ibiza town.
This zone corresponds to the old charger Sa Sal, until Sa channel charger replaced it with more practical."