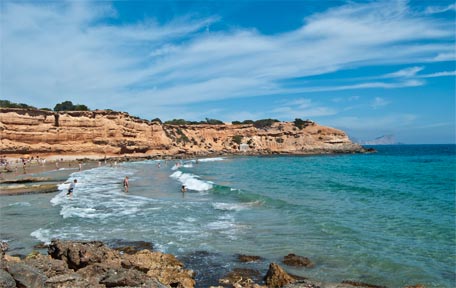 Cala Bol Nou. Sa Caleta for everyone.
It had been several days looking at the map of Ibiza, reviewing the coast of Sant Josep, and wondering would Beach Cala Bol Nou. In official maps and websites, the reference is the same. I was a couple of years working in the area, and to me the name or I sounded. So I grabbed the camera and left Ibiza in the direction to the airport.
When you reach the roundabout at the airport entrance road to the right, I took by the Ponderosa bar, which leads to the road to Sant Josep. Five hundred metres, the detour to the left towards Es Codolar will allow us to enjoy wonderful views of the salt industry, about three kilometers.
We stopped to buy water in the only supermarket that we will find in the area, and on our way to do Bol Nou?. This is Sa Caleta. It puts you in the sign that marks the turn-off. The oldest of the place know this. I met her as such for many years. But you see that the name didn't like someone in an institution.
Anyway, we left two small coves, little known and less overcrowded, and we go by a dirt road to the car parks situated in the upper part of the Creek. There is a stall with everything you need to spend the day and even some clothes. Hippy-playera, is clear. A sign tells us that we are not the bags in the car. Maybe on the beach while they bathe, much less.
After parking, we find the restaurant of Sa Caleta. It is the only one in the area, but I remember making a fideua (noodles fish paella) for scrumptious. If you have the chance, between the bar and you will see an exhibition of local fish decorating the walls. From the terrace of the restaurant we can take two roads. The one on the left takes you to the village Phoenician Sa Caleta. The station takes you to the beach.
VERY IMPORTANT. Regardless of where it is directed, please note that this is an area of typical landslides. Keep the walls of the Cove and above all, if walks in the surrounding area NOT BE ASOME to THE CLIFFS. The soil in many sections of the cliff is eroded by full and would not be the first time that someone is despeñase.
Following these tips you can comfortably enjoy the beach. Sa Caleta has a Bay a little closed with two stretches of beach separated by a rocky platform. The color of the sand is somewhat reddish due to landslides and the drag of the rain. In winter is one of the most secluded beaches you will find. In summer it is often quite crowded, but you can always approach small coves that are located in the area.