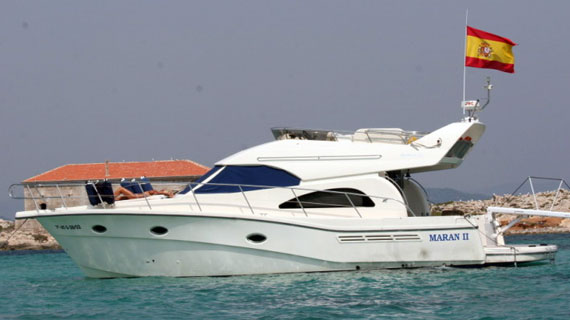 Coming from waters Alicante, this Rodman 41 us visit during the months of July and August. Talk of a yacht ready to satisfy any need of their passengers. A real luxury for those who dare to enjoy it.
Browsing a Rodman 41
This boat, of the House Rodman, is the model more high of the range. Almost fourteen metres in length, Rodman 41 offers large spaces and a very complete distribution. Sleeve far outstrips the four metres supported on a stylish helmet.
The behavior at sea is excellent. Rodman 41 comes equipped with two engines Volvo. A total of seven hundred forty horsepower capable of 27 knots of cruise. The built-in IPS system allows you to reduce acceleration times, reducing consumption and increasing the autonomy and a great ability to maneuver. Their electronic propulsion system allows Rodman 41 reduced up to 50% the diameter of spinning.
Rodman 41. A very spacious yacht.
The total capacity of the Rodman 41 is twelve people. If we try to distribute them in thirteen meters, it may seem a little space. If we say that the yacht features a tub of bow, an area of bath in aft and a flybridge (upper bath) space expands enough. And we have not even stepped inside. Here we find the cockpit with a spacious lounge. With night approaching, you can access the three lower cabins. The first, ahead, will allow you to enjoy a double bed, perfectly decorated. A little further back, we find two cabins spread to port and starboard. In the first there are two bunk beds. In the second, two beds with own bathroom.
Equipment of the Rodman 41
Here we are entering the most remarkable aspect of this boat. While series boat is perfectly equipped with GS, radar, autopilot systems, sonar marine radio and compass, attachments that have been added will allow us to spend an afternoon, day, weekend, or week spectacular.
We want to fish? As a probe of fishing, rods and accessories. A bit of sport? To choose. We can equip ourselves for swimming or diving. But if you prefer something more dynamic, we missing our ski and wakeboard equipment.
For those hours that don't feel like nothing, because we can use air conditioning, connect the plasma TV, see our latest adventures on dvd, and of course, relax.
More information and photos about the Rodman 41 in Ibiza yacht rental