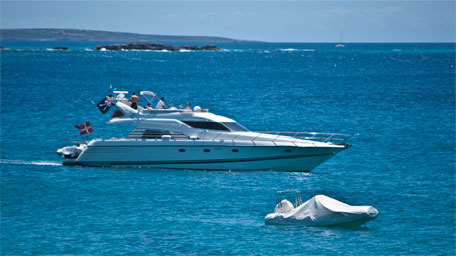 If you plan to make a rent of yachts in Ibiza, we advise you to follow a series of guidelines, both before boarding as once inside the boat or yacht. Here are our recommendations.
Before renting a yacht on Ibiza
If you already sailed before, but sails with people who haven't ever, or even if it is your first time, choose the sea route before you get on the boat. Both if you are doing a short journey and spend several days on the boat, plan in advance the points that will anchor, weather and sea conditions, contingencies that may arise.
In the sea any inconvenience is often become a larger problem. Check the battery of your mobile phone. Forget big suitcases. The first thing is that they are a nuisance inside the ship. Add extra weight and we are always exposed to being hit. The space inside the ship tends to be relatively small, so a sport, more malleable (and painless) bag is perfect for the occasion.
Clothing must conform to our needs within the ship. The CAP is not a whim but a necessity. A sports equipment is essential to not subtract we cover, and practically forced mobility, use the typical nautical white sole, to not mark covers fiber. In any case, do not use soles that can make you skate. A garment for the night must not miss us, even if we are in the middle of August.
Nor should we forget the towel and sun cream. The sea increases the solar effect on our skin, and not going to probably get a burn of our day at sea. If you like to contemplate the seabed and diving, fins and diving goggles are essential. Use caution whenever you do this type of activities. They are not exempt from danger.
Finally, if this is the first time that rent a yacht in Ibiza, or if you are not used to navigate (said surf, don't take a ferry) take pills against seasickness.
Once embarked on our yacht of rent in Ibiza
Remember that the boat is not connected to the mains or the water supply. Use lights only when needed and don't waste water. You can spoil a beautiful day. Be careful with the elements of the yacht.
It is not difficult to break anything in a sudden gesture. A break can cause a slam or excessive pressure in the bathrooms. Avoid also convey to habitats sand or salt water. Try to always delete it before on the outside.
Observe the notes on the use of the engine. It is not the same to be pulled on a road in the Mediterranean.
Finally take special care with everything he can dash or we do not want to lose. In any maneuver we can give away a mobile to Neptune and assure you that you don't need it.