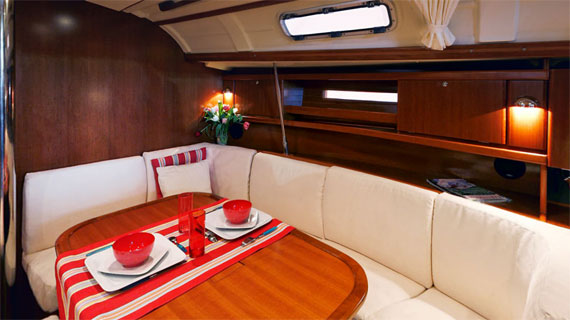 Today we present a form of yacht little-known, especially in the world of sailing. Give you the possibility of renting a sailboat by day, day and night, weekend or week.
A boat for the experience.
The boat in question is the super yacht Dufour 385, a boat based in the port of Sant Antoni. For those who do not walk very posts on the subject of boats, we'll tell you that Dufour 385 is a boat of 11.37 meters in length, or longer which is the same. Your sleeve, or maximum width, is almost four meters. The interior consists of three cabins, two aft and one forward. The cabins come to be the cabin of the large ships, though in sailing ships, because of the smallness of the space, tend to be composed of marine mattress and some corners where to store belongings. To these habitats should join them to the kitchen, lounge and two bathrooms.
It must be borne in mind that life within a sailboat pretty differs from everyday life, and issues such as drinking water or fuel acquired great importance. Drinking water because it is limited, although the Dufour has a capacity of seventy-three hundred litres. The fuel, because it is necessary for those days when the wind blows not with enough intensity and with something there to feed electrical devices having a boat, especially during the night. For this expenditure, the Dufour 385 uses a 180-liter fuel tank.
If we use sidewalks that we have in the living room, we can expand the capacity of the boat up to a total of seven passengers, enabling us to share wonderful evenings in good company. And it is that, for those who do not know passion surf, spend a few hours on Board of a boat propelled by the wind, it can become an unforgettable experience.
There is also the possibility of renting places in the boat upon request.
For prices and booking can refer to the tab of the sailboat Dufour 385 or look at our complete range of yacht.