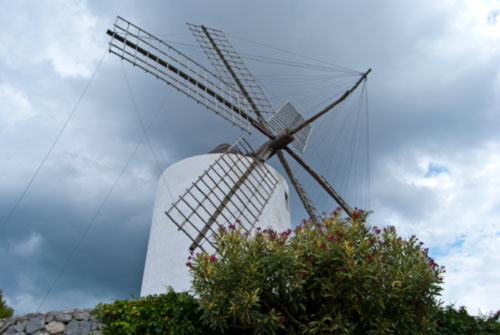 If we look at the distribution of the municipality, Puig den Valls belongs to Santa Eulalia des Riu, South of the municipal area. However, we approach, we discovered that Puig d' in Valls is nothing more than an extension of the city of Ibiza. To tell truth, recalls more to one of those peoples small that a day were absorbed by the great city, being relegated to a neighborhood residential low the attentive look of its symbol more emblematic, its mill.
As arriving to Puig d ' in Valls.
It is curious, when less, the distribution of this small town. Located on the northern border of the city of Ibiza, the layout of the new roads of Sant Antoni and Santa Eulalia have become relegated to the apex of a kind of U forming both roads. Even so, the most common way to get is done through the known way viejo de Sant Mateu, right where the first growing areas begin to make an appearance. A form quick of reach this road is taking the deviation, in the road of Sant Antoni, in which leave to our right the factory of energy electric. Starting from here, any street that take to the right we will take, by streets, rather than streets, until it high of a top.
That we will find in Puig d ' in Valls.
Let's start by what is most striking. The Windmill. Restored and functioning, it is perfectly visible from the Valley of Ibiza. As element architecture, really not have price. But without doubt, its greater charm it found in their views. South across the Bay of Ibiza is at his feet, exposing the upper town of Ibiza, the port, and in the distance, the lighthouse of Marina Botafoch. West small saw that Sant Antoni crosses by the locality of Sant Rafael is exposed. Kilometers of pine forests and mountains more rugged plug the output to the sea by the this. To the North, the town dying where they begin the plantations.
Inside the village, low houses and tranquility, contrasting at scarcely kilometers with the hustle and bustle of Ibiza. The Church is quite modern, and us has almost gone unnoticed. Next to it a small square and a children's playground. Isn't that Puig d' in Valls looks like a village, is that it is a village.