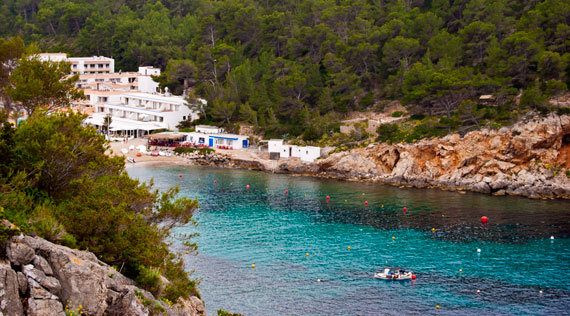 One of the most picturesque places that can be found on the island of Ibiza is the port of San Miguel, or Port de Sant Miquel. The Cove consists of a main beach, a secondary cala, Cala Moltons, and a third Beach, is Pas de'Illa. The best known undoubtedly is the beach of Port de Sant Miquel, an extensive Sandy area of about two hundred meters long enclosed between rocks. We are talking about the largest accessible coastal section that can be found throughout the municipality of Sant Joan, visible from the Church of Sant Miquel, an ancient fortress.
Port Beach
The beach has all services, although we have to be careful. A few meters to the water begins a steep slope that leads to a marine pool. The water becomes crystal clear on the sandy bottom. Next to the restaurant and bars offer we find enough to make almost any nautical activity.
The beauty of the landscape lies in its topography. Large islets appear on both sides of the Cove, with almost inaccessible cliffs. A hotel rises in the right leg, about fifty meters above the sea. Some rooms overlook almost on the water, with a simply incredible view.
Pirates cave
Front of them, the small Cala Moltons, a virtually unknown Cove for grand tourism with an underwater background spectacular, although it has a drawback: the onlookers. And is that there are a large number of people just opposite. We find the reason in a beautiful vantage point that allows access to the Can Marçá caves. In these caves, the contrabandismo was practiced in past centuries, and rediscovered, now, you can visit.
More information and photographs on the tab of Port de Sant Miquel .