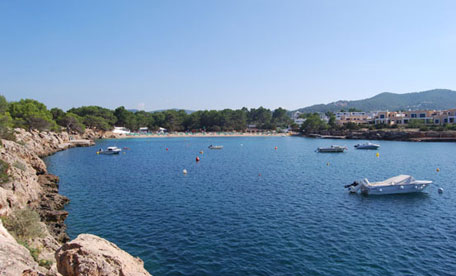 Before we talk about the beach Port des Torrent, which is what the article is about, we want to give some advice to tourists. When you see advertised accommodation, restaurant or place of entertainment is located in Port des Torrent, please note that they refer to the two roads, known as the top and bottom (glued to the sea), which depart from the limits of the town of Sant Antoni, and across five kilometers along the coast until you reach the beach of Port des Torrent or to the dry dock where the north face Coast dies. In a nutshell, you can stay at a hotel in Port des Torrent in first line of sea and be quite far from the first stretch of decent arena.
Returning to what concerns us, years ago that I frequent the beach. And many more West Coast that precedes it. It is one of the few beaches that you can find with people in winter.
How to get there
Because the truth does not much loss. If you drive, you will find a roundabout just the exit/entrance of the village on the road between Sant Antoni and Sant Josep. Take the deviation that leaves San Antonio right and straight. At the end of the road, after leaving all the entertainment area, a Grove and a small stretch of low and rocky coast, you will find a roundabout surrounded by hotels. Park as soon as possible.
If you don't drive, you can use the bus. In particular the lines 2, 6 and 9.
I will find
Taking into account that we are surrounded by Resorts, whatever we need. Even a small medical center in the surrounding area. What can forget is the sports arena, there is not enough space. Although there are some pedal boats to make legs if you wish.
The beach.
About fifty meters of sand give us enough space to enter the sea, but in summer and with both hotel nearby, the thing is complicated. You can always walk along the coast and take a dip. Ojito with sea urchins in the rocks and be diving goggles. Octopus, red mullet, silvias and many native fish.
One last tip, if you are fishing in Port des Torrent. Use buoy. And if you pull leads, do not long shoots. Hitting a bather or even the fisherman in front is not so difficult.
More information and pictures here.