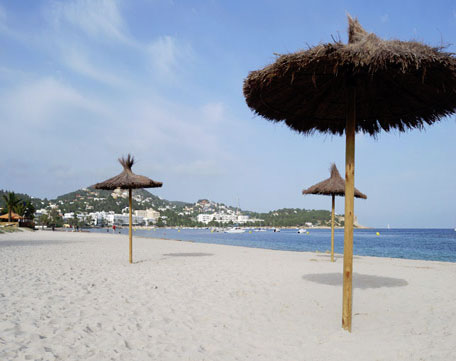 Stop in this almost urban beach. Located adjacent to the harbour Bay, separated by the lighthouse of Marina Botafoch, we find one of the beaches that more tourists have enjoyed.
If you are in the lucky ones who visited the Talamanca beach twenty years ago, verify that its appearance does not differ much from that time. An extensive Sandy covers the Bay which takes a ride with wooden planks. Hostels, restaurants and beach bars, some charming, comprises the coastal area under the guise of old fishermen's houses.
If it weren't for the colorful zone, one might think that he is still somewhere in the deep Spain. Good, colorful, and for boats and jet skis that we find on the beach. With the saturation of the port of Ibiza, many are a place of perfect anchoring in its waters. And where there are ships, there is oil.
Where to stay is
Offering hospitality is very broad, but if you make your transfer on foot, we recommend you to choose any close to the bus stop which is located next to Talamancaroad. The walk to any location is comfortable, if not you carry luggage.
Where to eat.
Eating won't be a problem. The floating bar, as a meeting point to the fall of the Sun both in summer and in winter is especially known among the residents.
How moving is.
One of the biggest advantages of Talamanca beach, besides its excellent location, is its good communication. The circular bus line is the only one who can save the bad service that presents the rest of the island. There is also a regular line of maritime transport to the Centre of the city. You recommend make it turned to their accommodation in them nights more warm using this medium.
Where fun is.
Talamanca is Pacha, so there is not much more to say. The casino also has a place featured in the night Ibiza. Bars and clubs select between both places.
That view.
The wetland of ses Feixes, for which has been requested the Declaration of heritage, retains a huge biodiversity of recognized importance.
What you will not count.
The already mentioned problem of the anchorage is a point against. As the presence of wetlands and of course mosquitoes.
Find out more information in our section beaches of Ibiza