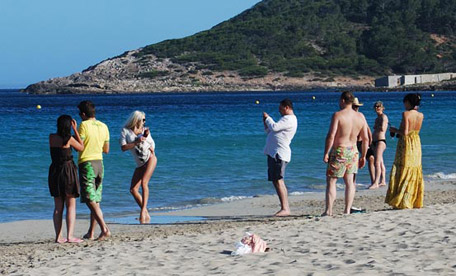 If there is a beach that is dedicated entirely to the fun and the youth environment, do not doubt it. Beach d' Bossa meets all the requirements for being appointed as the beach with more atmosphere of Ibiza.
This beach has a peculiarity regarding other beaches and coves of the island. With its two kilometers of extension, is shared by the municipalities of Ibiza and Sant Josep. This should not be a major problem, but were for the different laws that exist in Ibiza. And the most curious, is that depending on the area of the beach where we are, the environment will be completely different. But well, there are two kilometers, there is room for all.
If we start with the end belonging to the city of Ibiza, we find a leisurely stroll by the sea. Diverse restaurants where you can eat and almost put your feet in the water. The environment in this area is fairly quiet, with tourists and residents sharing the fine sand of beach d ' in Bossa. The accommodations and services more exquisite make Act of presence.
As we move forward, and another beach runner passed us some of that, we started to hear the background music. People start is to stand and dance next to one of the bars. There is no doubt. We are in the municipality of Sant Josep. Not there are posters or lack that les does.
Begin to appear the first t-shirts wet and people posing to make is the photo of remember. Can tell that were in Bora Bora. We continue moving forward by Beach d' Bossa and the music is changing by a quiet ChillOut.
The noise of any vessel you are stuck one of those huge floats where people go stumbling short run run from the waves. The public that includes the show has changed. We have reached the entrance of the Nassau running. UN Environment chic next to one of the stalls for the use of people with mobility reduced best preparations that have seen in Ibiza. A contrast for approaching the Tower of Sal Rossa, the end of Beach d' Bossa. Ses Salines natural park is just around the corner. That will be another day. I'm going to dance a bit.