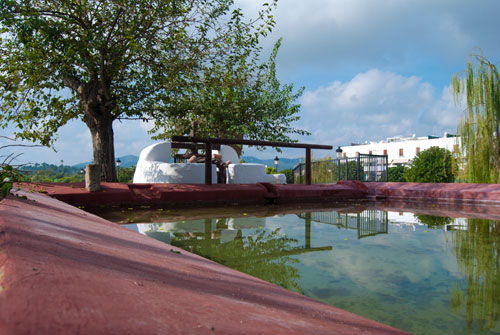 Today we are in Jesus, one of the most charismatic places of tourism in Ibiza. A small town located on the outskirts of Ibiza, able to tell so many stories as Dalt Vila, with a stunning historical relevance, but unfortunately few people know about.
How to get to the village of Jesus in Ibiza.
As this town is located within walking distance of the main nucleus of Ibiza, in address to Santa Eulalia. Reach does not much complication. Take the roundabout linking the internal roads with the ring road of Ibiza we find a detour that leads to the town of Jesus, about four kilometers. The place is frequented mainly by bars that are right next to the road. The dimensions are not very large, so we recommend you to turn to the right after the arc of access to the Church, and Park as soon as possible.
Just Park, one can give account of that rhythm is life for Jesus. If removed to this town the road is not hear more than the rustle of the trees. And it is that the town centre it is just four blocks. People does not seem to be in a hurry, and is in fact, not have it. The bars are usually filled with outdoor tables, with people sitting to enjoy a good breakfast, or lunch, or which touch at that time. Against these bars, we find the stone arch that gives access to the old town of Jesus.
It is curious, as nothing else to enter, something akin to an old barn has been transformed in the pharmacy of the people. Almost looks like a chapter of the "tell me". A little later we find the Church, facing a safareig, a pool with an ancient system of wood and pottery, used to extract water. And if today the water is vitally important in our lives, what to tell them of the past.
Finally, we arrive to the Church of Jesus. Them stories that placed a monastery in this place are abundant, but in the century XVI passes to build is the Church, a building of vital importance for the inhabitants of the time. Located to some two kilometers of the beach of Talamanca, place of landing usual of pirates and looters, served of refuge to the population during centuries, passing to form part of them legendary churches that endured these hard years for the population Ibizan. In fact, in its interior, a spectacular altarpiece built century is preserved. A true work of art that has not lost its charm and the most curious, has withstood the passing of the years and wars, keeping its splendor.
Outside, a no less spectacular porch, still gathering farmers typical dances during the holidays, especially which is held in the town of Jesus on September 8. A real luxury for the tourist to visit Ibiza.