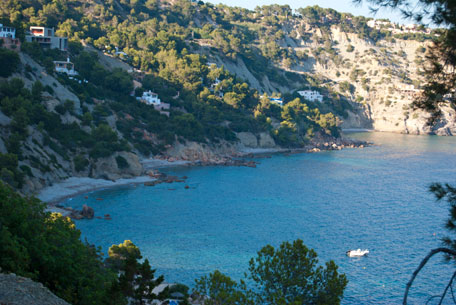 Today has come the turn of the tourist resort of Es Cubells. I had not been ever, but my beautiful guide Yes. For years. And as I said, did not seem nothing Es Cubells of end of the century passed (do it seems like yesterday eh?) Only two things remained in place. Church and peace that reigns.
How to get there
The first thing we did was take the road from Ibiza to Sant Josep. Seven kilometres we find indications of the detour to the left. A little more than narrow, poorly paved road and have already arrived. Well, in view of the road which we will then find, this is a motorway.
The town.
As seen the welcome sign, and low houses surrounding the square of the village, it didn't anything otherworldly. One village of fishermen (ignorance mine). That drew enough attention is the Church. I knew that it was from the 18TH century. I've seen almost all the churches of the island. It seems to me an impressive and unique cultural heritage. The frontal is spectacular, with the sea as backdrop. I can not understand, what say you the religious turn which can convert a porch of a building of three centuries in the private terrace of the inhabitant's turn. Come on, the metalwork of the windows not much respecting the original construction, although it is very practical. Cultural aberrations aside, overlooking cala Es Cubells is impressive.
The coves.
Since we are almost left without a car. A little awkward, so we're going to cheat, but is that, after spending the first Grove leading to the road from the beach of Es Cubells, the road becomes sinuous and slopes more than considerable. We regret not getting lost, because the views are spectacular, as the luxury villas seen downhill. Do said fishing village? A Cove after another Creek, almost private, inaccessible. Some can only be reached by boat. As those who can see anchored next to the "slums". "Yes, but are bowling, don't have or spark of sand" the consolation of the fool.
A place to enjoy walking or in car, with slopes huge and caves inaccessible. With places so select that not ago missing vigilant to not let you enter. Simply have no boat.