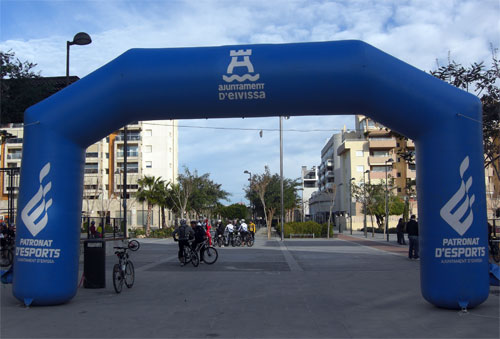 Next Sunday November 7th is celebrated the famous day of the pedal, is his edition of 2010. Ibiza again closed streets to allow this time to bicycles, more popular than the triathlon of the Ferro Home suffered last week. Said Town Hall has asked citizens to refrain of circulating through the city between the ten and fourth in the morning and the twelve forty-five. And better them because staying in the car locked up during this time can be a real burden.
The day of the pedal travel
At eleven will take place the departure of the street circuit, with eleven kilometers that will depart from the Boulevard of Abel Matutes, as every year. Starting from Abad Lasierra i, take Paseo de Abel Matutes Juan, Ignacio Wallis, Isidor Macabich, country Valencia, Spain Avenue, Paseo Vara de Rey, Avenida de Santa Eulalia des Riu, Paseo de Juan Carlos I, Alhaueth, Calle de Talamanca, Camí de Camp, Camí de Ses Feixes, Avenida 8 August, turned down the Avenue of Santa Eulalia des Riu, Bartomeú Rosselló , Isidoro Macabich and Bishop Abbot i Lasierra until you reach the starting point.
Also children from five to ten years have their place on the Day of the Pedal, although with a much smaller tour, five kilometers. Always accompanied of an adult and two-wheeled bike, walk the streets of the city passing through the streets of Sant Critófol, Abad Lasierra i, Abel Matutes Juan, Ignacio Wallis, Isidor Macabich, País Valenciá, Avenida Spain, Jaume I, Avicenna, Pere Sala, Anibal, Pere Palau, vegetables, Manel Sorá, Josep Verdera, Creu, count Roselló, Rimbau, Bartolomé Ramon i Tur, Bartomeú Roselló, and back , Isidor Macabich, Abad Lasierra i, to the starting point.
In the own boulevard also the typical activities of this day will be organized. For children, there will be a baby a kilometre circuit, where he can enjoy with their tricycles strolling Abel Matutes Joan, San Cristófol, Abad Lasierra, Josep Zornoza i i Bernabeu. A tour of two turns through the streets of Ibiza .
Registration for the day of the pedal
The inscriptions are made the day of the pedal on the same boulevard, and eye because thousand three hundred first enrolled will have a shirt free of the organization. The opening of registration will take place from 9: 30 until eleven o'clock in the morning. At that time there will be the start of the main race. A quarter past eleven, infant, and at half-past eleven travel, child circuit output.
With respect to the activities, eleven and half to twelve and a half there will be a circuit of driver education on Antoni Albert square. At one quarter, closes the day with the famous drawing of bicycles for those enrolled. To me I already had years ago, hopefully the luck will accompany you. Good day of the pedal 2010 Ibiza.