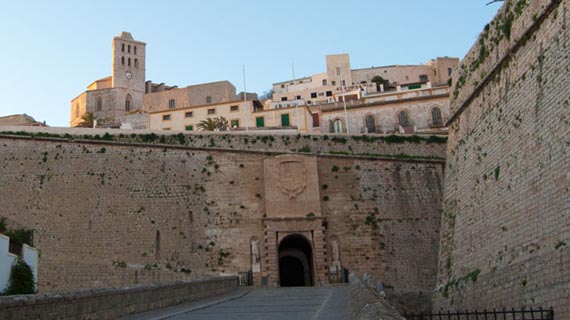 Hotels Ibiza Centre. The area
When it comes to decide between the large number of is a good possibility. Please note that this area includes the historic centre and the neighbourhoods of the city wall, even before reaching Figueretas to the South and the beginning of the port. Hotels remaining in the Talamanca area forcing almost make your airport by bus. In Figueretas, although the walk is comfortable, the preference tend to be small hotels and hostels in season.
Downtown radio is occupied by buildings, in some historical cases, with upscale hotels, some luxury.
Our recommendation for Hotels Ibiza Centre
Hotel Royal Plaza. Open year-round, the hotel is very close to the port of Ibiza. Its four stars are a hallmark of elegance and quality. Many are the services offered, but we are left with the nocturnal views to Dalt Vila from the terrace.
Mirador de Dalt Vila. Located opposite the Town Hall, in the historic heart, this five star hotel in classic style has all the services with an extra added. Integration with the walls of the Heritage gives an added plus and a touch of distinction and elegance.
Hotel Montesol. A classic, known for its Cafe in which we can find some other famous taking refreshments. This hotel stands out for its building, declared as of common interest.
The rest of available accommodation in Central Ibiza correspond to hostels and pensions. If your intention when looking for Hotels Ibiza Centre corresponded to more economical hotels, we recommend you to perform your search in hotels located in the area of Figueretas. They are relatively more modern hotels and its distance with the bus stops and the center of the city fails in almost no case within a five minute walk.
Compare hotel deals Ibiza Center