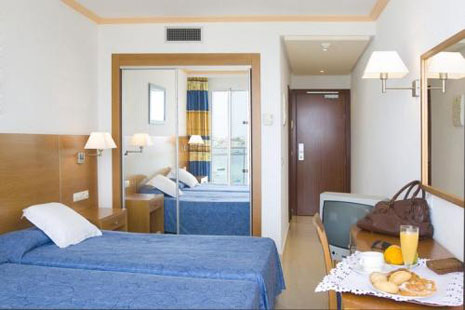 Continuing by the area of Talmanca, found a three star. The Hotel Victoria. Ibiza stands out for the abundance of accommodation of this category, and find a newly renovated hotel is not usually common and much less to paisanos from the center of the pitiusa capital.
Of the hotels that are located at the far end of the beach of Talamanca, Hotel Victoria is one of the most accessible. The quickest way to access this place just as always through Ses Paises by the August eight Avenue, the road to Pacha. To the get to the first roundabout will find the street of Jesus in the first exit to the right. At the end of the road found the Hotel Victoria, with a zone of parking facing the entrance. There is that review that this hotel not is located on first line of beach, but two streets by back.
The Hotel Victoria has of rooms single, double and rooms double with views to the sea. Feature of air conditioning and television, elements that will make more pleasant our stay in Ibiza. One of the main advantages thanks to its recent reforms is the adaptation of certain elements to people with reduced mobility. No doubt a gesture to thank.
For those who do not like salt water, the hotel has a swimming pool for adults and another for children. The bar, with food buffet-style, is a good complement for those days in which we have no desire to leave, but rest and relax. For this reason also have of a small field of minigolf.
In the surroundings of the Hotel Victoria not only will find the beach, the casino or Pacha is us seem inescapable for the tourist. The beauty night of the port, to which is can get from the multiple boats that depart from them piers of Talamanca, is another of them points to visit during your stay.
More information, photos, map and reservations