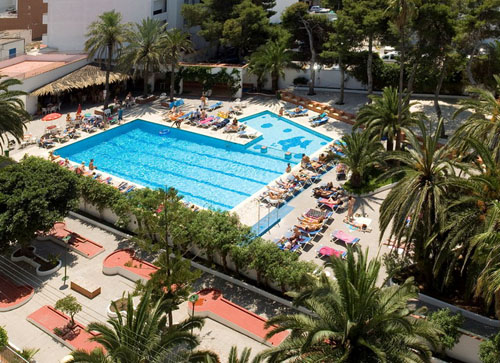 Again the Centre of Sant Antoni beneath our feet to greet the Hotel Tropical. A three star hotel located in the Centre of Sant Antoni. This can be a great advantage, or a huge drawback, depending on the type of tourism that we are looking for.
How to reach Hotel Tropical
The first thing that must be clear, is that this hotel is 200 m away from the area of Sant Antoni, best known as West. If we have come to the island through the airport or the port of Ibiza, and we rented a car, we have to take the road which joins Ibiza Sant Antoni until you reach the famous egg of Columbus. Once you reach the roundabout, it is very important not to take the address of the port, but take the street which leads parallel to the promenade and rotating to the right a few meters. We are in Ramón y Cajal, so straight until you find on the left the statue of a typical payes with gesture of scream a "Yatooo", a typical call of the island. Turning a few meters later will find our destiny.
If your transfer is done by bus, get off at the stop closest to the roundabout of the famous egg. The next stop is going to catch something else away and with a not very nice slope. Which can be accessed if accessed from the port of Sant Antoni. From this location we advise you to take the road that goes up just before reaching the paseo. The carrer of the sea will take you uphill and downhill to the doorstep of the Hotel Tropical.
The Tropical Hotel is a three star hotel in the Centre of Sant Antoni where he can enjoy half board, with a more English food that Spanish. Its one hundred and forty-two rooms, next to his swimming pool with Snack Bar, offer air conditioning and a spacious work space. Television, full bathroom and a small refrigerator complete the offer hospitality.
But keep in mind that it is in the Centre of Sant Antoni. The nights are very moved, so if you intend to rest during these hours, is not the most appropriate place. If you want instead to live the most intense night, may be your accommodation Hotel Tropical in Ibiza .
More information, map and reservations at Tropical Hotel