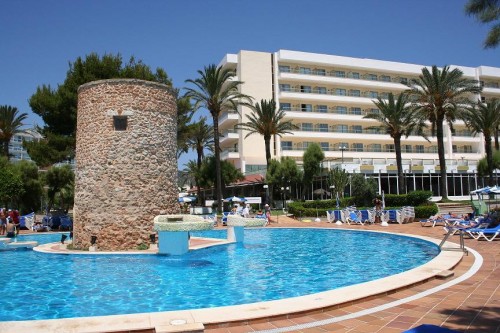 We return to our tour of hotels in Ibiza, and today we stopped at the Hotel Torre del Mar. Although not overnight in hotels to which we refer (the budget are going a bit), if you have had the opportunity to visit the Hotel Torre del Mar. In fact, it is a landmark in the BBC (weddings, baptisms and communions) for its elegance, class and distinction.
It Hotel Torre del Mar is located on the edge of Playa d' Bossa with the beach of Figueretas. It belongs to the municipality of the city of Ibiza, making it easier to access can be from the city itself. In fact, the distance that separates the port of Ibiza you are about three kilometers and a half, going through the city along a more colorful.
You can access the hotel from the Beach Road d' Bossa, if coming from the airport, or entering from Ibiza, we advise you to be much more simple and less pedestrian travel. For not messing with the indications, enter Ibiza by the Avenida Spain (McDonalds roundabout) and at the first traffic light turn left. Do not leave the street until you find a small clear not urbanized to the right. Then turn left and come direct to the hotel.
You can also take buses that go to beach d' Bossa departing from Ibiza, although this option is only recommended if you are loaded with luggage. Otherwise, enjoy the ride through sea.
As a hotel perfectly decorated in a classical style. Its rooms, twin and double rooms with lounge, offer ample space and at the same time cosy. Satellite television and Wi-Fi are available in both versions.
When it comes to food, is appreciated the presence of the dining room, although we also have Snack Bar and cafeteria, depending on the occasion.
But a four star like this need a plus to highlight. And we found it in areas such as the Spa, where you can relax quietly. The gym, perfect for staying in shape, machinery is available to customers.
The heated pool is one of the great attractions the hotel Torre del Mar at your service.
Finally, highlight events. Appetizers in its splendid terrace, next to the old Tower, which gives its name to the hotel will leave guests impressed. Beautiful views to the sea, which are complemented by a restaurant for the occasion. Meetings and conferences are also present in the Hotel Torre del Mar, where have three convertible rooms one with a total capacity of doscienta fifty people and the most modern equipment available.