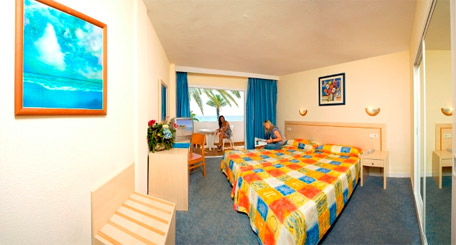 Located in Hotel Playa Real Ibiza, is in middle of the beach of Talamanca. The place deserves a special mention for its proximity to the Centre of the city and its good both terrestrial and maritime communication. The combination of bus is the best on the island, which also much that is. However, they have to be cautious. This hotel belongs to the sadly well-known hotel chain Grupo Playa Sol. Known as Ferrer hotels had failed many complaints, this year does not seem to be the thing to paint as well. Although the price tends to be the best that can be found, both the cleaning service as the food do not complete for everyone's taste. If you prefer to risk the price we present the characteristics of this hotel.
If you plan to make the move by car, you must take the road of Ses Paises linking the end of Talamanca beach from Pasha Street, Avenue on August 8. If you come from Ibiza and is passed, you can go back at the end roundabout either shorten at the same roundabout, in the previous output. If you do not have car we recommend to take the circular bus. Line 12 will leave you almost on the doorstep. Another option is the Seaway, taking one of the boats that leave from the port of Ibiza. A good choice if it comes by this means of transportation to the island. Remember that the Hotel Ibiza Playa Real is located at the end of the beach.
In the referenta to rooms, there are four types available. Single rooms, double rooms with views of the countryside, double rooms with views of the sea and the family room. Latter has capacity for up to four people, while the double rooms can accommodate up to 3 guests. The equipment is the same for all, and includes air conditioning, bathroom and satellite TV. As always we recommend, if you can choose, which is overlooking the sea. The beach of Talamanca offers a unique possibility to enjoy the sea breeze.
The facilities of the Hotel Beach Real feature with a swimming pool, a restaurant and a room of conferences with capacity for fifty people. Although undoubtedly the biggest attraction will always find in the Talamanca area and surrounding. Pacha, the Ibiza Casino or the Marina of the city are places of worldwide reference.
If you want to check availability and make your booking on-line click here