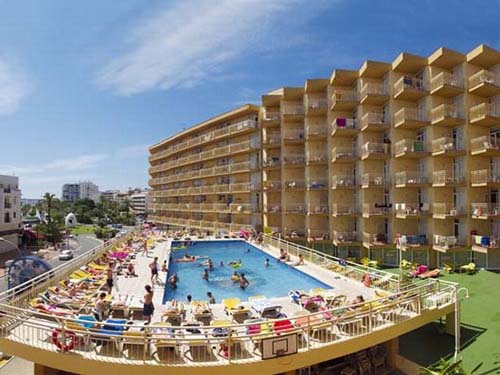 We return to Sant Antoni to meet the Hotel Piscis Park. A hotel incredibly well at the entrance of the town, at the roundabout of the egg of Columbus. This is the point of union of the exit to Ibiza, Es Pouet Beach and its lively promenade that ends in Port des Torrent. And of course, the beginning of Passeig de Ses Fonts, nerve center of the nightlife of Sant Antoni. And again, we found the hand of Grupo Playa Sol wreaking havoc among the views of tourists. If King Midas turned everything that played in gold, this group begins to become the perfect antagonistic.
How to reach Hotel Piscis Park Ibiza.
Because not have loss precisely this hotel. The bus stop is 300 metres away, which is much less than it will have to walk if you decide to rent a car. The nearest public parking is by turning to the right at the roundabout and parking in the area is going to be an Odyssey. Moreover, gives equal from which come because the hotel is perfectly visible after leaving behind the Mall gives the Welcome to Sant Antoni. If the arrival is produces by the port of the municipality, descend until the end of the paseo of Ses Fonts.
That we will find in this hotel of Ibiza
The Piscis Park Hotel is listed as a two star hotel. Its two hundred eleven rooms have air conditioning, bathroom and terrace. Highlight the views to the Bay and the area of port sports. In addition, a pool will delight customers.
Although the sea is nearby, we recommend not adjoining beaches due to the proximity of the sea and Marina port. You will find much environment, perhaps too much, especially by the night. The clientele tends to be composed of young English people, and this involves some degree of mess, call it somehow. In fact, this hotel often appear in the local news several times a year, and even in several videos circulating on the net, with cases of balconing.
And it is the Piscis Park Hotel can be recommended for young people wanting to party, but can become an ordeal for families and quiet people.
More information, map and reservations on the tab of the Hotel Piscis Park