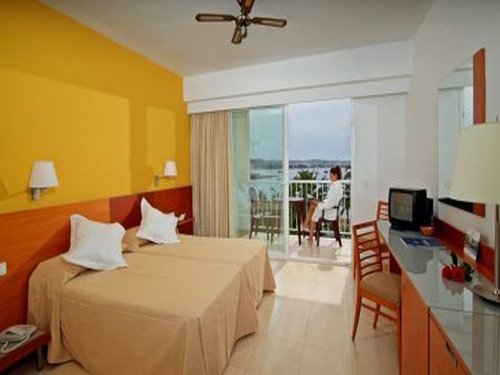 Hotel Palmyra in Ibiza
Located in the beach of is Pouet, in full Bay of San Antonio and to very few meters of the macro-discoteca is Paradis, we find with the Hotel Palmyra.
This hotel of four stars is located in an of the areas preferred of the town. Its proximity to all the environment of the West of San Antonio, the station of bus and it cited disco it make perfect for who van to enjoy of the night Ibizan without have of a car of rent. The route of the disco-bus (a bus exclusively to explore key areas of Festival of the island) is very handy.
But go with the hotel. He sweet sunset of Sant Antoni (name current of the locality) is perfectly visible from the terraces that give to the beach. To get to the sand so only will have to cross by in front of it pool of water sweet. As well, we will have the option to walk the waterfront of the Bay. Premises that combine all types of music, food and drink, with the most picturesque decorations, we will invite you to have a good time.
We can compensate for both night ruckus with single, double or triple rooms soundproofed rooms available.
The features of restaurant, bar and a service of reception during all the day. Is adapted to people with mobility reduced and count with elevator.
Services at Hotel Palmyra
The services offered include room service, laundry with dry cleaning service and VIP in some rooms service. Will have Wifi in the areas common's way free and there is a parking public beside the hotel.
This is not a child-friendly hotel, so if we travel with children we will have to take into account that only 16 years old are accepted. We neither request extra beds. The entry must perform is starting from them 14 hours and the output before the 12 hours of the noon.
If you want to see more photos and check the prices and conditions you can go to the page of the Hotel Palmyra.