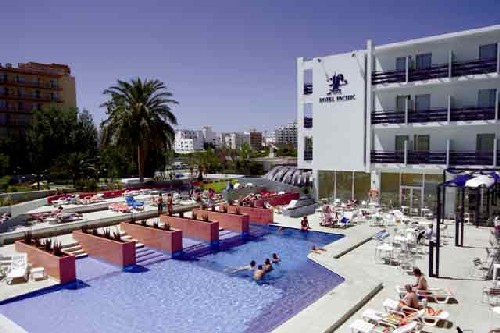 Today we stopped at Sant Antoni to discover one of the Azuline hotels in Ibiza: Hotel Pacific. And the name makes sense, because the Pacific is the ocean that is going West, the nightlife area of more English environment. If you are coming to spend a holiday with your family, follow looking. If you come to Ibiza to enjoy the feast and overnight, maybe this will be a good choice.
How to reach Hotel Pacific.
This hotel is located on the outskirts of the village of Sant Antoni, four hundred meters from the beach and 200 metres from known as the area West. If your arrival on the island through the port of Sant Antoni, the walk is going to be a bit long and uphill. We recommend that you reach the end of Passeig de Ses Fonts (fonts) and turn left down the first street which find access for vehicles.
If you arrive by car, leave the roundabout right out front, leaving the port and the promenade on the left. In any case, continue on calle Ramon y Cajal to find the statue of the peasant by shouting. In the next street on the right, you will find the Hotel Pacific.
It is curious to see how the majority of the comments that we find about this hotel are made by British. And they speak quite well the accommodation. Pretty good, for a young Englishman throng, is clear. The hotel is located in a privileged location, on the street in London. Too near or too far away from anything.
With a three star cataloguing, the Hotel Pacific offers 150 double rooms and 6 single rooms. The terrace stands out in rooms with satellite television and full bathroom. Most importantly, have air conditioning.
Has with a pool for adults really spectacular, and another for children, although the area not is the more recommended for them small of the House, especially by the night. Also has of several games typical in the hotels of the area as are the pingpong or the table of billiards. Although offers of snack-bar, by the area there are many bars and restaurants, also for Spanish, where not miss the food typical of the Mediterranean.
A place to enjoy in the company of the couple and enjoy the night in Ibiza . Hotel Pacific.