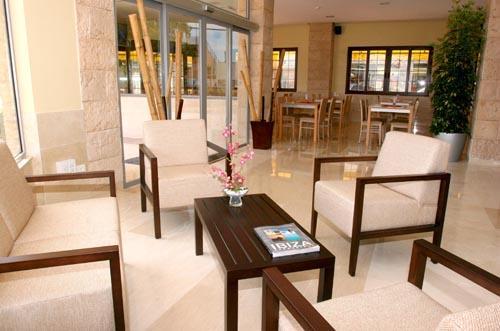 Again by Sant Antoni to visit one of those hotels that tourists expect to find before going on holiday, and some lucky few find. We have not found even a single opinion negative of this accommodation, and that in Ibiza, and especially in Sant Antoni, are big words.
How to reach Hotel Orosol in Ibiza.
To situate us, Hotel Orosol is located in the town of Sant Antoni, almost in the periphery. Close, very close to the Centre, but far enough away to not suffer the noise and disturbances in the West, the busiest area at nightfall in Sant Antoni. To get we situate ourselves in the roundabout of the egg of Columbus, easily identifiable. This is located at the end of Passeig de Ses Fonts. If you disembark at the port of Sant Antoni, you must visit the seaside promenade. If arrival occurs in car rental from Ibiza, is the first roundabout on entering the heart of the town.
From this point, the access to the Hotel Orosol is quite simple. Taking the road that departs from the port, we will have to continue to leave behind to our already typical statue of the speaker to the left. The hotel is at the next corner to the right.
That I find in Hotel Orosol.
This accommodation is considered economic type, so don't expect a luxury inside. Services are minimal, but more than acceptable. With fifty and nine rooms arranged in seven plants, the Hotel Orosol offers accommodation with capacity of up to four people. Features of bathroom full and television. Although it has air conditioning, do not like the idea that is pre-paid us much.
Also next to this hotel we find studios and apartments belonging to the same company in the so-called Hotel Orosol II. Equipped with a fridge and kitchen, as well as all you need to make your own meals, these accommodations are for three and four people respectively.
With respect to the services, you will find a cafeteria with internet access as well as different access points. Also boasts launderette, essential if you plan to spend more days that clothes take in the suitcase.
In short, the Hotel Orosol is accommodation cheap Ibiza without many benefits but clean and efficient. Just what your customers are looking for. More information and reservations on your tab