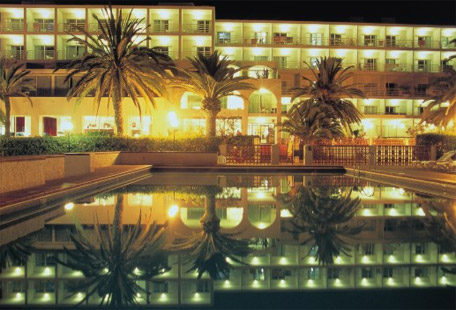 Continuing with our hotel route, we encounter the Hotel Naútico Ebeso. Located in the heart of mills, this old hotel with more than fifty years in its foundations, has managed to keep pace with the time and renew itself. What so many years ago was a point on the outskirts of the city, today it is a downtown square next to the beach, a few minutes walk from anywhere in the city.
If you come by car, be careful with parking. It will not be easy. To access must enter the roundabout of McDonald's, the first that you will find if you come from the airport, and take the Avenue Spain. Ramón Montaner is the third street on the right. A few meters ahead you will find the hotel.
Access by bus is not very difficult. Get off at the first stop on the Avenida Spain and follows the direction of the car. Three streets and turn right.
As a hotel renovated in the year 2000, with hundred ten rooms double and thirteen individual, very near the sea. So close that many of their rooms are offered with views to the beach of Figueretas. Despite its two stars, the range of services included in the rooms is quite comprehensive, with air conditioning and fan, for those who don't like the air. It also has television by satellite and bathroom with bathtub. That Yes. We are warning you that complaints about accommodation, where last year he concerned, come being frequent.
In the surroundings of the hotel.
Because we are going to find practically of all. We're a few meters from one of the main urban roads of Ibiza, with lots of shops and leisure centres. Bars and restaurants on foot of beach and plenty of fast food in the Avenida Spain. In addition, at the end of this street, to some ten minutes walk, have the set port, where the night is another thing. The beach is a few meters, down a small slope, and at night are also encouraged in the presence of the market if we prefer the waters of Formentera, there is more than talk. Ferries stop at a small Jetty opposite the promenade. Water, sandwich if it arises and two boats of sun cream, ready for a day on another paradise.
Map, information and booking the Hotel Nautico Ebeso