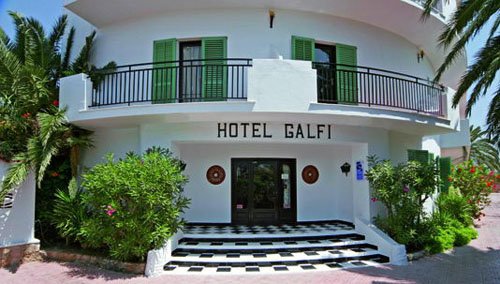 Hotel Galfi
We're back with one of the many hotels in Sant Antoni, Hotel Galfi. This establishment is located 300 metres from Es Pouet beach that surrounds the port town, and little more than one kilometer from the center of the municipality. Of course one kilometer dragging suitcases can be somewhat uncomfortable, so we recommend you use an airport shuttle service or you can rent a car at the airport of Ibiza.
This distance that separates the hotel from the core urban is ideal if we want to share the rest with the busy life night of Ibiza. A little more near the Center, the hustle and bustle night cause difficulties to reconcile the dream. is a the perfect distance to avoid the discomfort that brings so much noise.
The Hotel Galfi is an establishment with two stars. Offers a very good value for money and offers rooms single, double and triple. Children can not stay at this hotel and extra beds are available upon request and subsequent confirmation. Pets are not allowed.
The hotel has air-condition, bar and reception 24 hours. You can find internet wifi in the common areas and rooms, although this service is paid. The parking nor should be a problem because there are parking public very closely.
In its facilities stands out poolside outdoor Sun terrace where you can sunbathe in their hammocks.
Rooms at Hotel Galfi
The rooms have been remodeled recently and are equipped with a balcony where enjoy of the sunset. In addition we will have full bathroom and air conditioning. Of course, they won't miss neither television nor telephone.
If want see more photographs, know its location exact and the price of their rooms you recommend that compares our prices in the page of the Hotel Galfi.