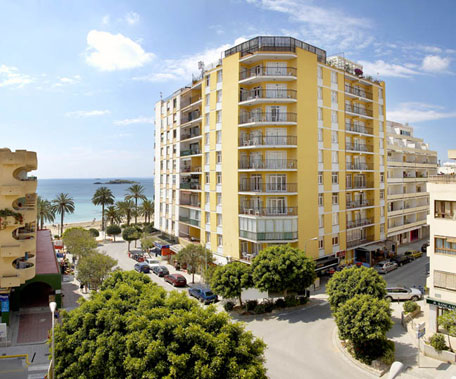 Today we are talking about one of the hotels that make up a typical picture of the streets of Ibiza. Hotel Don Quijote is located in one of the busiest areas in the urban area, next to plaza de Julián Verdera, on the promenade of Figueretas. If you has last some time in car by the zone, there will be could see a picturesque bar of corner decorated to the more pure style Dutch. Hotel Don Quijote is located just above. And if he has walked through the area of the hotel in summer, fallen will water without knowing where. Is what have the swimming pools in the roofs, that can wet to the people without know who has been.
As if still has not found the hotel Don Quijote with tracks that we have given, point, point. Between to Ibiza by McDonalds roundabout towards Avenida Spain. First traffic lights to the right and stop until the road turn left. See the Dutch bar in the corner on the right? As it has become. If you have taken the Beach Road d' Bossa, then continue until the road turns sharply left. It has no loss.
We told him that this hotel belongs to the grupo Playa Sol? So very cheap rooms with lousy service. Three types, double, single and double occupancy. There is no more than strolling by the comments of some websites to see what the common standard in this chain is the dirt and poor service in every way. A real shame, because the hotel is in an unbeatable location. But all skinny dog fleas become.
Moreover, they have complete bathroom and balcony. It will need to, because they do not have air conditioning or fans.
Where to eat and have fun in Figueretas.
Because it is quite easy. Just below the Hotel Don Quijote, in the part that gives to the street Galicia, has a bar where many workers stop to eat. It has its little terrace and some delicious homemade burgers. If the grill is going more and have time, an Argentinean restaurant with meat to the grill would be a street before, Navarra, taking direction to the port on the corner of la Caixa. Very good food, although somewhat slow service.
He market hippy you expected in the ride of Figueretas, to just thirty meters of the hotel. The area of the mills, to a street, is famous for its environment gay. Also the port of Ibiza, a short walk away, offers you all the diverse night show that has made it famous.
Hotel Don Quijote offers you a great location but little else.