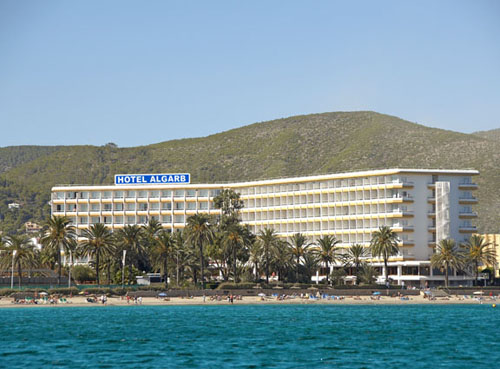 Again we are before one of these somewhat peculiar Ibiza Hotels , Hotel Albarg. And as it seemed inevitable, belonging to the chain that has caused more negative comments about the island, not long ago we have criticism about its cleanliness and food from the hotel quite disheartening. Only the price and a worthy of some locations much better we incite to spend the night in these hotels. Fortunately, this hotel is not that worst criticism received, although we do not recommend you or half pension. We started our tour of Hotel Algarb.
The hotel is located located in the municipality of Sant Josep, adjoining with the of Ibiza, in full Beach d ' in Bossa. The arrival to the place doesn't have much loss especially if we make it from the airport upon arrival. After taking the road that leads to the city of Ibiza, find a small detour to the village of Sant Jordi, and from here a path in one of the roundabouts in direction to Playa d' in Boosa. A time have the beach to the view, so only will have that go a stretch that runs parallel to the coast, crossing the ride commercial. At the end we find the hotel of three star hotel Algarb. Another great option, arriving from Ibiza, is to take the Avenida de Pere Matute Noguera. Not has much loss as begins in Figueretas and runs through the beach to get to the same door of the hotel.
Thus in principle four hundred eight renovated rooms as they indicated, although as a second renewal would not come them badly. Fully equipped, the presence of air conditioning and ceiling fan, for those who hate the first. The rooms not are especially large, but are comfortable.
It has a children's pool and another for adults, a pool bar and a buffet restaurant. If you want it save you will gain in health and well-being. We recommend in the area a small bar which makes corner, in front of the Hotel Tivoli today property of the same chain. There you can take something decent to regain strength.
The location is perfect, walk from Beach, a short walk from Bora Bora and Space, and one of the largest centers of entertainment on the island. As we always say try reserving rooms overlooking the sea. In this case, especially, will change the sound of beach d' Bossa by run run from the sea. Choose the Algarb Hotel if you are looking for something economical but without many pretensions.