Casa Roxire is located in the urban area of Santa Gertrudis, a few 14,58 kilometers of the airport of the island. To move to the accommodation we recommend renting your car at the airport in Soloibiza.com.
Hostal Casa information Roxire
House Roxire
Input:16:00
Output:09:30
Located in Camino Viejo de San Mateo s/n, Santa Gertrudis de Fruitera, Illes Balears 07814 Spain
Find the best prices in Casa Roxire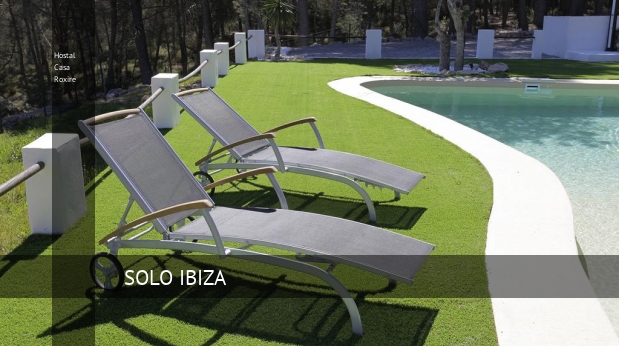 Common services at Hostal Casa Roxire
For your information, we present a list of services at Hostal Casa Roxire sorted by category. You can choose your accommodation to make your inquiry.
General
It has parking
With free parking
Accommodation with parking
It offers private parking
Accommodation with Wi-Fi
Activities
Golf courses close by
Ping-pong available
Facilities for windsurfing
Facilities for hiking
Facilities for cycling
Bowling game
Facilities for scuba diving
Facilities for horse riding
Facilities for the practice of the Snorkel
Mini-golf course in facilities
It has water park
Services
With Internet access
Available WiFi service
It has free Wi-Fi
Food & drink
Availability of barbecue
Shopping home delivery service
Swimming pool and wellness
Sun terrace
Massage service
It has year-round outdoor swimming pool
The pool toys available
There is swimming pool
Transport
Shuttle service to the airport
Availability of rental bicycles upon payment
Car rental
Relocation services for payment
Transfer to the airport of payment services
It has shuttle service
Front desk services
Reception service 24 hours
Availability of safe
Common areas
It features garden
It has terrace
Available terrace or solarium on-site
Offer of leisure and services for families
It has children's services and babysitting
It has children's games area
Availability of Board Games
It boasts playground inside
Service of equipment for outdoor games
Available TV channels for kids
Cleaning services
Several
Rooms for non-smokers
It has heating
No one can smoke throughout the property
It has air conditioning
Space enabled for smokers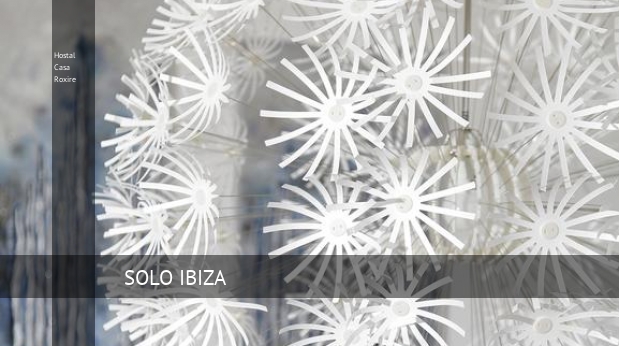 Available rooms at Casa Roxire
Enjoy some of the rooms in Casa Roxire with a list of specific services.
Villa 2 double (s) large. Maximum 6 person (s)
It has coffee maker
Bathroom with shower
Bathroom with bathtub
Safebox
TV with pay-per-view channels
Television available
Climate control / air conditioning
Equipped with hairdryer
There are kitchen space
Equipped with a refrigerator
Equipped with desktop
Area available
Free products for grooming
Equipped with Dvd Player
Fan included
With toilet included
Dishwasher available
Washing machine available
It has patio
Enabled bathroom
More than 2 meters large beds
Equipped with heating
Satellite channels are available
Equipped with kitchen
Television with cable channels
You have bathtub or shower
Equipped with a fireplace
There are connecting rooms available
Flat screen TV
Equipped with private entrance
Soundproof room
Room with a view
It has dining room
Possibility of iPod docking station
It has kitchen accessories
Equipped with mosquito net
Available towels and sheets with supplement
It has private pool
Available cabinets
Oven has
Equipped with hotplates
Available toaster
It has BBQ
It has views of the garden
Overlooking the pool
With mountain views
It has coffee maker
Room with terrace
Availability of towels
Availability of bed linen
It has dining table
It has outdoor furniture
It features outdoor dining area
There are coat rack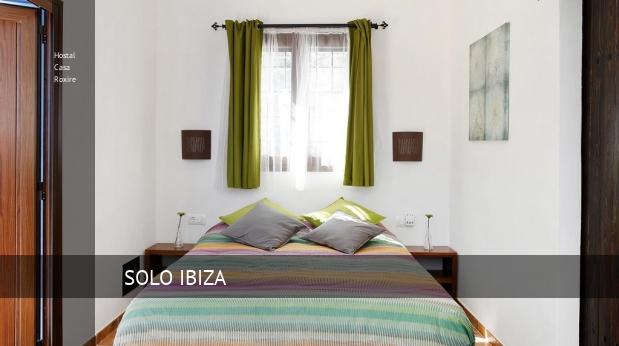 Hostal Casa video Roxire
If you prefer, you'll be able to enjoy the Hostel Casa Roxire video on Youtube.
As you scroll down the airport to Hostal Casa Roxire with your car rental
You can print these directions to get around to your reservation at Hostal Casa Roxire to get a rental car at the airport of Ibiza we suggest that you go through this section with super market.
Go to the Southeast
Salt of the roundabout in CTRA Circunvalacion Ibiza
Follow E-20
Take the exit towards Centre ciutat/Ibiza/Sant Antoni/Puig Den
Stay to the left to continue towards Carrer Sant Antoni de Portmany/C-731.
At the roundabout, take the third exit towards Avinguda de Sant Antoni de Portmany/C-731

Towards C-731

At the roundabout, take the second exit and continue along C-731
At the roundabout, take the second exit towards Monte Cristo Polígon Industrial/C-731

Towards C-731

At the roundabout, take the first exit and continue by C-731
At the roundabout, take the second exit in the direction CTRA Ibiza-Sant Antoni/C-731
Take the exit towards CTRA Ibiza-Sant Antoni
Still by CTRA Ibiza-Sant Antoni
At the roundabout, take the first exit towards Av. S R Isidor Macabich Av. D
Turn right to Av. S Rafae Joan Castelló/PMV-812-2

It continues towards PMV – 812-2

At the roundabout, take the third exit
Turn right
Turn to the left.
Turn right
It continues by Area Baix Murta

Hotels near Casa Roxire

If there is no availability in Casa Roxire or is not to your liking you can consult next accommodation in the following list.