Empire House is located in the urban area of Cala Vadella, to about 17.08 km from Ibiza Airport. To get to your accommodation we advise you to hire a car in Solo Ibiza.
Hostal Casa information Empire
Empire House
Input: 14:00
Output: 10:00
Located in Carrer Coll de s'Oratge, 134/3, Cala Vadella, Illes Balears Spain 07820
Find the best prices in Casa Empire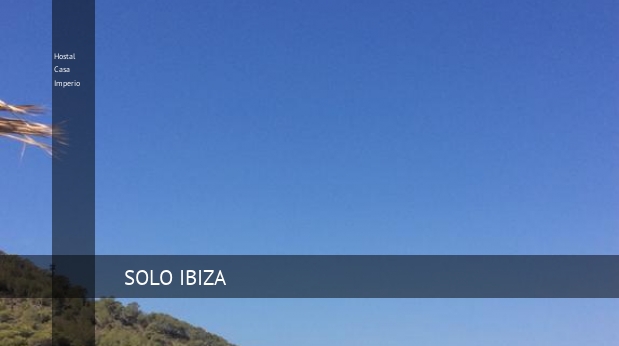 Common services at Hostal Casa Empire
For your information, we show you a list of common services at Hostal Casa Empire listed by type. You can choose your stay to perform your search.
General
It has parking

Pets allowed

With free parking

Accommodation with parking

It offers private parking
Activities
Facilities for fishing

Facilities for hiking

Facilities for scuba diving

Facilities for the practice of the Snorkel
Services
With Internet access

Available WiFi service

It has free Wi-Fi
Food & drink
Swimming pool and wellness
It has outdoor swimming pool

Availability of swimming pool or beach towels

It has beach umbrellas

There is swimming pool
Transport
Parking on the street

Parking in garage
Common areas
It features garden

It has terrace

It has outdoor furniture
Several
It has air conditioning

Space enabled for smokers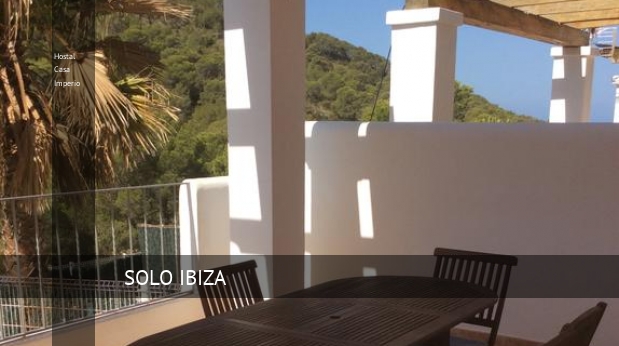 If you need a villa we remind you that we have a section for ti: villa house.
Hostal Casa video Empire
If you want you can see full screen Youtube video of Hostal House empire . Remember that you have a complete list of videos of best accommodation in Ibiza
As move you from the airport to Hostal Casa Empire with your rental car
You can save these signals to reach your reservation at Hostal Casa Empire for having an economic car hire in Ibiza we recommend visiting this page with super market.
Go to the Southeast toward CTRA Circunvalacion Ibiza
Salt the roundabout at Carretera de l' Aéroport
At the roundabout, take the second exit in the direction CTRA sa Caleta
Carretera sa Caleta turn right up to Disseminat sa Caleta
Straight
At the roundabout, take the second exit towards PM-803
Turn to the left.
At the roundabout, take the third exit towards PMV-803-1
You continue straight on towards road Saint Joseph-C. Vadell
Still by Carrer Club sea view
Turn to the left towards Carrer Coll de s'Oratge

The destination is on the right.

Hotels near Casa Empire

If they do not have available rooms at Casa Empire or you prefer more options you will be able to find hotels in the surrounding area from the list below.

The following two tabs change content below.

Latest posts by Solo Ibiza (see all)