It can Tito is located in the area of Santa Euralia des Riu , to about 15.65 kilometers from the terminal of the airport on the island of Ibiza. To scroll to Tito Can we recommend to rent your car in Ibiza Airport in Soloibiza.com.
Hostel Tito Can information
Can Tito
Input:15:00
Output:10:00
Located in Old Santa Eulalia, 1.6 km road, Santa Eulària des Riu, Balearic Islands 07840 , Spain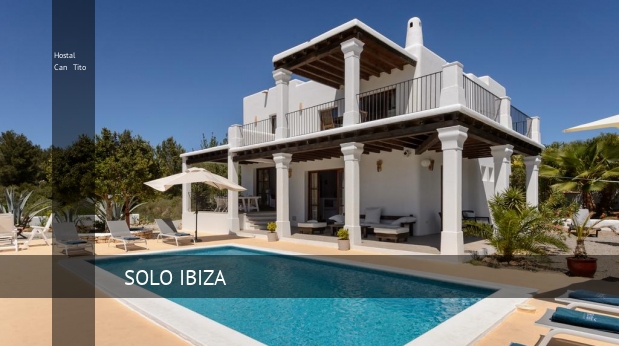 Common services at Hostal Can Tito
For your information you included a list of common services at Hostal Can Tito presented by category. You will be able to choose your room to do your search.
General
It has parking
With free parking
Accommodation with parking
It offers private parking
Services
With Internet access
Available WiFi service
It has free Wi-Fi
Food & drink
Swimming pool and wellness
In season offers an outdoor pool
There is swimming pool
Transport
Shuttle service to the airport
Service economic car rental Ibiza Airport
Relocation services for payment
Transfer to the airport of payment services
It has shuttle service
Common areas
It features garden
It has terrace
Several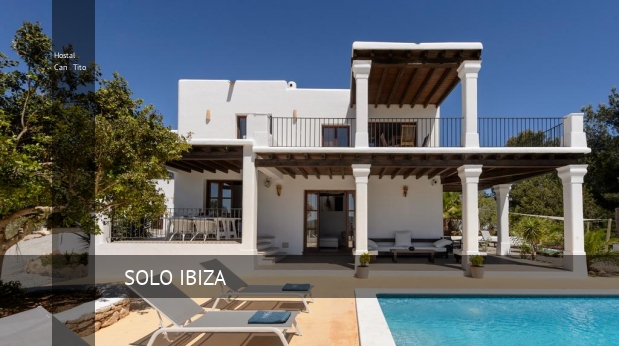 Available rooms at Can Tito
We bring you some of the suites Can Tito with a list of specific services.
Villa 3 double (s) large. Maximum 8 person (s)
Television available
Climate control / air conditioning
Equipped with hairdryer
With whirlpool
It has the iron
There are kitchen space
Available with balcony
It has bathtub hydromassage
With radio available
Equipped with a refrigerator
Equipped with desktop
Area available
Free products for grooming
Equipped with Dvd Player
Equipped with cd player
Equipped with microwave
Dishwasher available
Washing machine available
It has patio
Equipped with heating
Satellite channels are available
Equipped with kitchen
Television with cable channels
You have bathtub or shower
Equipped with a fireplace
Flat screen TV
Equipped with private entrance
Available sofa
Tiled floors or marble
Room with a view
It has dining room
Electric heater
It has kitchen accessories
It has private pool
Available cabinets
Oven has
Equipped with hotplates
Available toaster
It has BBQ
It has views of the garden
Overlooking the pool
With mountain views
It has coffee maker
Room with terrace
Availability of towels
Availability of bed linen
It has dining table
It has outdoor furniture
It features outdoor dining area
Ladders for access to upper floors
Self-catering accommodation
It has swimming pool towels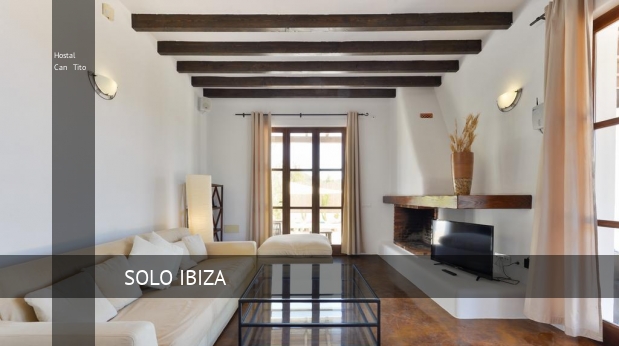 To get the best vacation homes, go to ibiza's luxury homes and see the best price on the island of Ibiza.
Hostal Can Tito video
If you want you can play fullscreen Youtube video of Hostal Can Tito .
How to go from the airport of Ibiza to Hostal Can Tito in your rental car
If you've hired car rental Ibiza Airport pickup or shuttle bus, scroll down to hostel Can Tito will be very comfortable following our signs. If you do not have your car we suggest you book one on our website for rent low-cost vehicle in Ibiza Airport.
Go to the Southeast
Salt of the roundabout in CTRA Circunvalacion Ibiza
Follow E-20
Keep left to stay on E-20
Continue on E-10
Turn slightly right onto Santa Maria
Turn to the left.

Restricted use highway

Hotels near Can Tito

If you don't find availability Can Tito or is not to your liking you can locate other hotels near the following list.