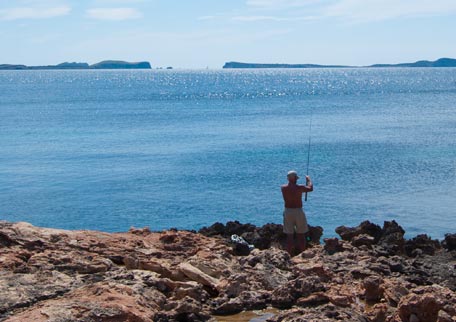 Ibiza is an island is not something you are going to discover. It has miles of coastline from where to go fishing, as it is something that is supposed to. That the quality and quantity of catches in the fishing will not be much and great fishing days are carried out on a yacht, own or rent, therefore equal this, if it does not know it.
Ibiza is an important fishing area. It is difficult to find an Ibiza family in which someone does not have the typical llaud, or some small boat to go fishing, sunbathing, or eat a paella in Formentera . Fishing from the coast has become more a leisure activity, as a way of passing time, as an art of getting good catches. If your idea is to make your stay in the island for fishing, or has decided to spend a day of fishing, our recommendation is clear. Rent a yacht and quit fishing waters of Ibiza.
For this occasion we have chosen a good yacht, the Regal Commodore 292. A boat of 9.20 metres in length and with a total capacity for 8 people. If it does not have the necessary qualifications, you can always hire the services of a pattern.
That I can fish in Ibiza
There are many marine species existing in the Ibiza and Formentera waters. Bream, Dentex, corvallos, groupers and a rich variety of typically Mediterranean fish. On recreational fishing, we have limited the total weight of catch with death to 5 kilos. However these restrictions become more important in species such as albacore, swordfish and palate or marli needle. In the case of the albacore, the limitation is 5 pieces per day and leave. for the other two species, the limitation includes a maximum of one copy per license per day up to 4 maximum in each boat. Special mention deserves the tuna, an exemplary especially protected and whose capture is limits to the return to the sea of the specimen.
Our tab you can get more information fishing yacht of rent in Ibiza