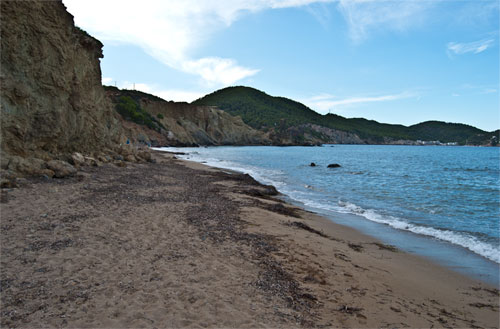 This weekend we have taken the time to return to the extreme North of the island of Ibiza. On our tour we visited a large open Bay on which are set three of the most beautiful beaches of the coast of Ibiza. Cala San Vicente, white Aiguas, and that today occupies us, Es Figueral Beach , along a coastline that precludes a beach pass to another, although they are sometimes only separated by a stone pylon.
How to get to the beach of Es Figueral.
Despite being one of them points more away of it city of Ibiza, to ones twenty-eight kilometers, the beach of is Figueral is quite easy of reach. This will have to go, across the road from Santa Eulalia, to neighbouring Sant Carles. Once we enter the village and slowly crossing her Street (Sant Carles is so quiet) turn left in a closed curve with enough caution. Take the road again road to the Cala of San Vicente (Sant Vicent) and in four kilometres we have planted in is Figueral. A kilometer before, will find the detour to the right that we will draw of the road main, perfectly indicated.
The beach of is Figueral. A garden of peace.
Although it had already been before in this beach, at sunset, this time we enjoyed the beach throughout the day. Its sandy composition is very similar to white Aiguas. Indeed, if not was by a huge rock in form of Wimpy that separates both beaches, we would be talking of one of them arenales more extensive of Ibiza. However, to difference of Aiguas white, the beach contains all type of services, with a couple of booths of surveillance, hammocks and parasols.
A couple of hotels stand at one end and to the arrival by road. And, most importantly in our view, is that Access translates into a gentle slope. Aiguas white instead requires a great effort extra, especially at the time of return.
Returning to the sand, something catchy and gold color, its heavy composition allows incredibly transparent waters. Small fish swim along the shore whenever we raise some land. If they made bread is a real enjoyed.
The shape of the beach is also rather curious. Three sections in U-shape topped among them by the surveillance huts. At the end of U closest to our arrival, a small Jetty sculpted on a small island, with ferries carrying Formentera transfers during the season.
With the Sea made a raft, are perfectly differentiated banks of smooth (very typical fish from these waters although they tend not to fish for human consumption) and the movements of other species to a couple of metres of depth.
At the ends of the beach, the rocks lie down to make way for seats improvised for bathers and people who walks calmly on its waters. We are in October, so temperature doesn't invite long bath, although some dare to take diving glasses and enjoy the dark, almost untouched landscape.
And is that is Figuera Beachis a true idyllic setting. A beach without people, without great fame, but collecting all the island spirit that is contained to the North of Ibiza. Don't miss out on your tab. Highly recommended.