Fiesta Hotel Milord is located in the area of Cala de Bou, about 14.78 km from Ibiza Airport. To scroll to Fiesta Hotel Milord, we suggest you rent a car in Ibiza, in Soloibiza.
Information of Fiesta Hotel Milord 3 star hotel in Ibiza
Fiesta Hotel Milord
Input:14:00
Output:12:00
Located in La Rioja, 9, San Antonio Bay, Illes Balears Spain 07820
Find the best prices at Fiesta Hotel Milord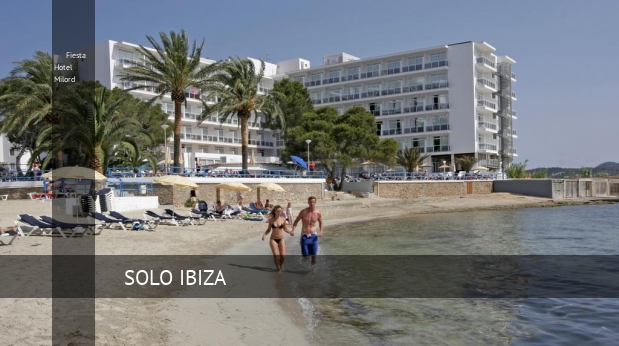 Common services at Fiesta Hotel Milord
Then, we present a relationship of Fiesta Hotel Milord services presented by category. You can choose your suite to perform your search.
General
It has parking

With free parking
Activities
It has billiards

Ping-pong available

Beach nearby
Services
Food & drink
Available restaurant

Bar available
Swimming pool and wellness
It has outdoor swimming pool

Located opposite the beach

There is swimming pool
Transport
Availability of rental bicycles upon payment

Car rentals cheap in Ibiza Airport
Front desk services
Reception service 24 hours

Currency Exchange service

Point of information for tourism

Luggage storage available
Common areas
It features garden

It has terrace

It has a games room
Offer of leisure and services for families
It has children's services and babysitting

It has children's games area
Cleaning services
Laundry service is available

Ironing Service available
Business facilities
Available fax and photocopier
Several
Suitable for people with reduced mobility

Elevator

It has air conditioning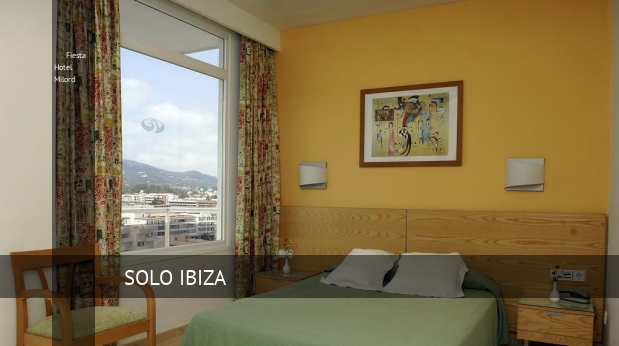 Video of Fiesta Hotel Milord
If you prefer, you'll be able to see full screen Youtube video of Fiesta Hotel Milord .
How to get from Ibiza Airport to Fiesta Hotel Milord with your car rental
If you have booked a vehicle with pickup at the airport of Ibiza or its surroundings, go to Fiesta Hotel Milord will be very easy following these signals. If you do not have your own car we recommend to make a reservation at section of car hire in Ibiza.
Go to the Southeast toward CTRA Circunvalacion Ibiza
Salt the roundabout at Carretera de l' Aéroport
At the roundabout, take the second exit in the direction CTRA sa Caleta
Carretera sa Caleta turn right up to Disseminat sa Caleta
Straight
At the roundabout, take the second exit towards PM-803
Turn left onto Carrer de Jaén
Turn right at Carrer de Jaén
At the roundabout, take the first exit and continue along Carrer de Jaén
Turn left onto Carrer des Calo
Turn right onto Carrer La Rioja

The destination is on the right.

Hotels near Fiesta Hotel Milord

If you can't find available rooms at Fiesta Hotel Milord or prefer more options you can find accommodations in the surrounding area from the list below.

The following two tabs change content below.

Latest posts by Solo Ibiza (see all)