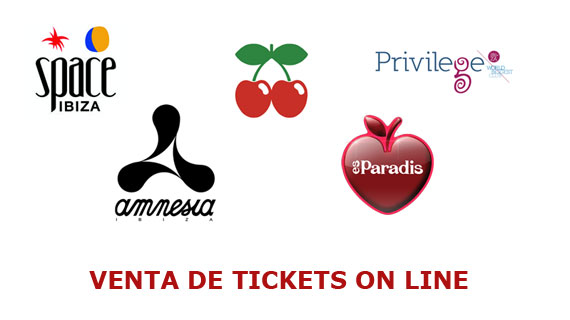 Disco clubs Ibiza 2012: festivals confirmed
Have entered in the month of them openings and us expected a month exciting for them clubs Ibiza 2012, so nothing better that collect information on them parties and events already confirmed for this summer and whose tickets already have available to save you them long queues.
Disco clubs Ibiza season 2012
Club Amnesia Ibiza 2012.
After its Grand Opening of the 9 of June will arrive to Amnesia three large classic. Monday will begin with Cocoon Ibiza. Don't miss the spectacular 2012 line-up. In our web of tickets of the nightclubs of Ibiza you will find all the information. For the Tuesday returns for the second consecutive year Together. Artists of the stature of Chase & Status, Skrillex and Axwell dance become a unique spectacle. The Thursday will have an of the best festivals of Amnesia, Cream Ibiza. Nearly two decades behind their good music seasoned this year with the presence of Paul van Dyk, Calvin Harris or Above & Beyond among others.
Nightclub Eden Ibiza 2012.
As of June 1 opening of Eden will be all a fact. Ibiza Live will be shown in scene the 5 of June with the presence of Professor Green and DJ IQ and is will be to live the night of them Tuesday. For the Saturday have confirmed again Mondo loco, a party with marked character Latin but that each year is gaining more followers.
Disco is Paradis Ibiza 2012.
Are many them festivals confirmed for is Paradis 2012. His inauguration will be on 18 may, but June is already prepared events like Colors for Tuesday. Alex Kunnari hand presents a festival that has already rung across Europe and that this summer, more than two months, will find it in Ibiza. Wednesdays for Ibiza Rocks. Probably the best event party full of mergers. Thursday with Twice as Nice that returns to its origins. With international artists, this blend of Urban House and Old Skool returns to continue for more than fifteen years. You sounds like Hed Kandi? Since it takes ten years to the highest level with the party more glamorous that you can eventually find. This year 2012 will count with the presence of Treasure Fingers, Sarah Louise or Sam Cannon. Stunts and performances live put the point special to this night. For the Sunday return Fabulush, one of the best shows that can enjoy in Ibiza, mix of color and a great environment. To those controls, some of the best DJs European.
Discotheque Privilege Ibiza 2012.
At the moment only have confirmed A state of trance, but little for the largest Disco is not the world. Along with a lot of guest artists, them will be available Monday.
Disco Ushuaia Ibiza 2102
Impressive the week that is going to organize this disco after their debut the year last. The Monday of the 9 of July to the last Monday of August nothing more and nothing less that F * I I'm Famous with David Guetta. Perhaps the best dish that is can expect to start the week. Thursday also bet strong with the legendary Luciano. Cadenza returns with more than renewed energies and a spectacle of light and colour. Ushuaïa Presents is the party star on Friday night, although there are still not many data about who will be its resident DJ. Pooldisco begins its journey the 23 of June by completing the night of the Saturday. Throughout the season is Iran producing performances point of artists rather than outstanding, as Calvin Harris the 28 of August.
Discotheque Pacha Ibiza 2012.
There are no surprises in Pacha. He 23 of mayo to International music summit at marks the start of a new season summer. The attentive to 39 party 29th anniversary of Pacha Ibiza. Mondays start week with Tiësto, chosen the best DJ of all time. The Tuesday will be special, combining some weeks of DJ´s Residents with the legendary Flower Power. Erick Morillo on Wednesday brings us the best New York House. Thursdays are for private Reserve David Guetta again with your F * Me I'm Famous. One of the few artists with moonlighting within the island itself. For those Friday comes again Pete Tong, funky club and House version 2.0. The night of the Saturday is again a mixture only of soul, funky and house. Defected in the house returns with its unique British air. The week ends with Cadenza, with Luciano again to the head accompanied of a large group of artists invited.
Remember that you can buy all your tickets online and save a good tail on our website of Clubs in Ibiza.