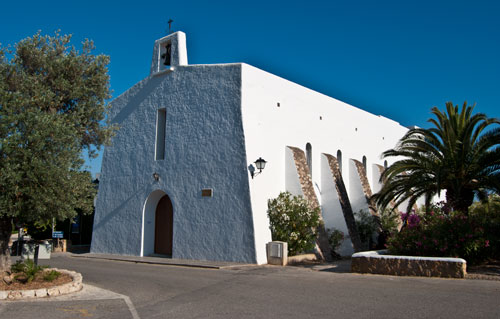 Today we stopped at one of the most beautiful points of the Ibizan geography. A place that not many know about, where you can breathe an almost infinite peace. Today we stop at the Es Cubells Church, one of the most symbolic places of tourism in Ibiza.
How to reach the Church of Es Cubells
The first thing that must be taken into account, is that Es Cubells is located to the South of the island, and although it adjoins the Las Salinas nature reserve, there are no roads linking them. Except for rural roads, we must find the only way to access it is Cubells on the road linking the airport with Sant Antoni, Sant Josep. In this same town, we found a road towards the area where the Church is located.
But if our route requires us starting at the outskirts of Ibiza or the airport, you will find a detour to halfway between the airport and Sant Josep. From here, a road with not very good sign until you reach the parish of Es Cubells. In the small square where you can park your car, we find the Church. White, simple and majestic. A typical Ibizan Church.
The date of construction of this church is dated in the mid nineteenth century. It is a curious, if we take into account that it is not a particularly susceptible de invasion area, so the Church was founded for reasons of worship. The story that was a such Francesc Palau y Quer who asked permission to be able to officiate mass in place to Rome.
Just came a permit for a small Oratory in their private house, which gave place subsequently to the chapel of the Church, this time already, for the plan of action of the Church which was completed to cover the regions furthest from the urban centres.
And however, it was not until almost a century later when the Church incorporated its current state. Perhaps that is the reason why its upper structure is visually distinct from the rest of the churches of Ibiza. The buttresses of the walls are visible from the outside, and a curious window on the central door leads to the belfry.
But in Ibiza, there are times that only the front matter. If view of front, the Church looks like a landscape motif, surround it, looking for your porch, we found an unusual double-glazed windows on windows. The porch or trace. At least, we can stay with the landscape that can be enjoyed from the area. Cliffs and grooved roads give profile to a landscape for almost all unknown. A paradise to discover the Ibiza tourism: Es Cubells Church.