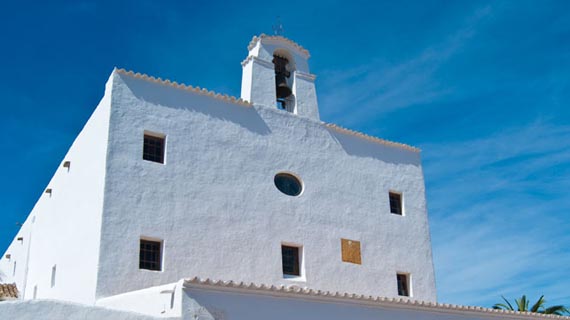 Church of Sant Josep
In our tour of the most interesting points of the cultural Ibiza we have a white, whitewashed, Church of those who love the island. We refer to the Church of Sant Josep.
How to get to the Church of Sant Josep
The Church of Sant Josep is located within the core urban of Sant Josep of Sa Talaia. The absence of beaches in the town has allowed that, like that in Sant Joan, has retained a very small urban center. This will allow us to a very rapid Church location, as you will find it on the main road that crosses the population and that linking the airport with Sant Antoni. Another very different thing will be parking. It more easy will be search parking next to the Town Hall, at the height of the stop of taxis.
History of the Church of Sant Josep
Sant Josep is located between mountains, the perfect hideaway to avoid the Turkish invasions. Its distance from the coast did not necessary defensive buildings nor its population, scattered among bands. Then is not until the eighteenth century when villagers in bands of es Vedrans and Benimussa request the creation of a new temple in order to avoid having to scroll to the distant town of Sant Antoni.
In 1727 it would start the construction of the Church that lasts for four years. Fifty and four years later, are converts in parish thanks to the Bishop Manuel Abad and Lasierra that it includes in its plans of expansion ecclesiastical.
Inside began to acquire importance with a Baroque pulpit of Josep Sánchez de Ocaña, dating from the 18TH century. Other important works are kept under its walls until the coming of the Civil War. The Church suffers the loss of most of his works of art, although nowadays many restored parts are preserved.
The main nave has square shape covered with a barrel vault. In subsequent reforms perfectly visible additions were carried out from abroad. The entry presents a porch of three arches where remains the former campaign. The walls of the Church are high although, to difference of the churches coastal, not presents aspect fortified, with windows in its part front. It also highlights a sundial on the facade, present in other parts of the Ibizan geography. The Church is surmounted by the Bell Tower.
As a curiosity, we recommend you visit the Church on Saturday or Sunday, and with any luck, witness a wedding. At the exit of the bride and groom usually traditional ball pages, the typical Ibizan dance.
You can find more information, maps and photographs on our tab of the Church of Sant Josep