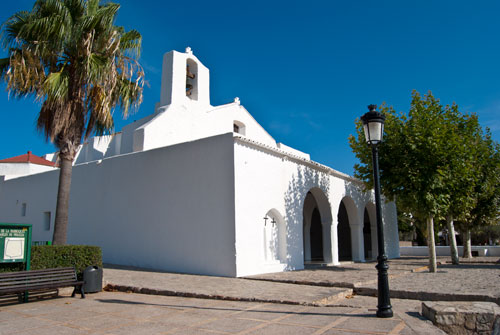 It is curious, to visit Ibiza geography, as arriving at one of those villages halfway between the countryside and urban life, we find its streets oriented around his Church. In many cases, it seems that the Church was there before any other thing. And it's often true. This same impression we have to visit the Church of Sant Carles, in the urban core of the quiet Sant Carles de Peralta (San Carlos), although nothing further from the truth.
How to get to the Church of Sant Carles
Let's start by locating us. Sant Carles is located north of Santa Eulalia, the municipality to which it belongs. About seven kilometers from the main area of activity of Santa Eulalia, we find between ploughed fields, the main street of the village, and almost the only one. Two more developments share today an as small as cosy corner. After leaving behind some shops, we give full with the two most representative of Sant Carles points. A bar corner, Anita bar, known for anyone who ever spent by Sant Carles, and hand right, the Church of Sant Carles.
I find in this Church of Ibiza
The Church is a building dating from the eighteenth century. Small urban area, you might think that it is the oldest building, but not. An old House of the seventeenth century, known as the Ca is Trui'n Andreu seems to hold the title.
In the construction of the Church, some variations with respect to other buildings in the same character Ibiza can be seen. The porch of the entrance presents a very unconventional dimensions. It is built on a double row of columns, something really unusual. The nave is square inside, though topped irregularly on the roof. The chapel dedicated to the virgen del Rosario stands out on the sides of the Church. The back of the Church gives end building with a roof in arrangement of L, and a new curiosity, a second porch that gives access to the chapel.
The rear façade of the Church of Sant Carles abandons the white lime to make way for the original building stone, leaving all decoration against the small cemetery of the town.