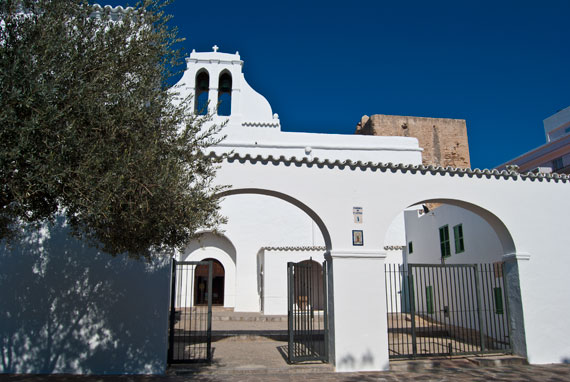 Located in the historic heart of Sant Antoni, a few metres from the Passeig de ses Fonts, find the Church of Sant Antoni. When is less striking contrast between the urban hustle and bustle and the tranquility that reigns next to the Church.
Access to the Church
Access is simple, although much more pleasant walk than drive. In the middle of Passeig de Ses Fonts we find a street that ascends, and with little traffic. Two corners later found the side of the Church and back. The high brick walls give us an idea of the importance of this historic building. The iglesia-fortificacion date its construction in the fourteenth century. It has a fundamental role throughout the first centuries as a place of refuge and defense of the Bay of Sant Antoni. If you look at the back of the Church, which has undergone less modifications, you can appreciate the small windows aimed at safeguarding. Three centuries later, the Church suffers the first important transformation. Joins the main nave with side door and defensive Tower, a splendid courtyard with arches at the entrance. The two arches served as support to the gates, today replaced by a lattice. Two porches, typical in the churches of Ibiza can also be found in the courtyard. In one of them gets us an old Pike of baptism.

An interior of inestimable value
We expect the main nave with several religious icons inside. The altar is dedicated to San Antonio Abad, whose figure presides over the ship. Two altarpieces of the eighteenth century accompany the Virgin of Rocío. The arrival of Andalusian workers during the last century also brought their most deeply rooted traditions. The brotherhood simpecado has a place reserved in this temple of worship and devotion.