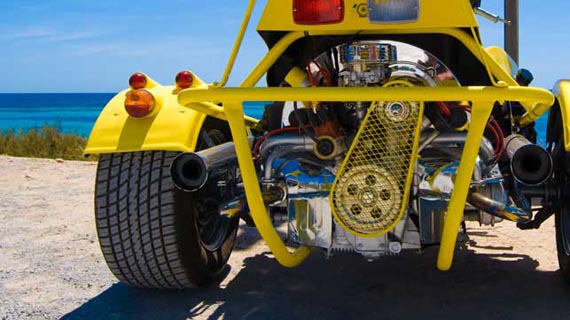 Car rental in Ibiza 2011
Begins a year more the season of rental of cars in Ibiza with a 2011 that promises be of it more interesting with regard to demand and quality of the vehicles offered. But choose a transport suitable to our needs can save us more than one disgust, and, of step, an important amount of money.
Tips for rental cars in Ibiza 2011
To begin with it would be nice remember where we're going to move. The island of Ibiza has very small dimensions. Have in has that the journey more long in car can assume some 40 kilometers, and in that distance will have tour the island of North to South. If our destination is going to be any of them nuclei urban more important, then can that that distance not see overmatched them twenty kilometers in any case. Ibiza offers either important highways. It even has the exact term of the word highway. The only highway available crosses the city of Ibiza from the town of Sant Antoni to get to the airport. The rest of the roads of Ibiza way compose it with one lane in each direction mostly long-distance. To get closer to the less crowded beaches, asphalt usually clears driveway giving rise to stony roads and in many cases difficult maneuvering. The choice of a vehicle of great cylinder capacity is going to be question of tastes rather than of needs. The cheapest version will be viable if not walk in the most hidden of the Ibizan geography points. If you plan to find until the last lost Cove, then declined by the all-wheel drive, especially if you want to visit the northern part of the island.
Parking. Car rental in Ibiza 2011
The parking is going to be the other point important at the time of choose our rental of cars in Ibiza. During the winter, problems are increasingly common to find a niche where to park our car. Ibiza car park has undergone a significant increase in recent years, which joined the ever more scarce presence of large parking areas, some parts of the island has become real impossible spaces. The problem is accentuated to reach urban centers more developed, and especially in Ibiza city. All this takes place during the winter. In summer it produces a great overcrowding with the and find a parking can mean several hours giving turns. One of the measures that have chosen the municipalities has been the introduction of Blue zones, but taking into account that its deterrent effect ends at ten in the evening, parking can become a real trauma. If is going to to stay in some core urban, have in has the following tips.
Check if the hotel has parking for customers
Otherwise, look for if there are public car parks or large areas of parking next to your accommodation
Try to rent a car of dimensions reduced and appropriate to the amount of occupants.
Losing a parking by some centimeters is a luxury quite frequent in those areas more populated.
Schedules of the area blue of Ibiza
Already us has been clear that Park in Ibiza can assume a headache of head, but at least them inform you of them areas blue and their schedules.
In the summer months, from June 1 to September 31 9-2 and 5-10 Monday-Saturday
In winter, from October to mayo of 9 to 2 and of 5 to 8 of Monday to Friday and Saturdays from 9 to 2.
If you are in the area of Figueretas, you can see the blue area painted on the ground. Don't be afraid, because on the date of publication of this post still does not have installed vending machines, although the lines decorate the streets for months. Is what has the adjustment budget.
Choice in the rental of cars in Ibiza
Then les showed some of them models of rental of cars in Ibiza that can find with the price average estimated by week. These prices tend to vary depending on the time of year, but the problem will find if you try to make your reservation at short notice. During the busiest summer months, saturation is almost complete and hard to find a vehicle that fits your needs.
Ford Ka (or Similar). This type of vehicles are perfect if we are going to move with our partner. Are small and easy for parking in the cities. Its maximum capacity is 4 people. They also usually come equipped with air conditioning. Its average price usually haunt the 120 euros. Probably the choice more cheap car rental in Ibiza.
Ford Fiesta or similar. An economic car with up to five people, but with the discomfort of two doors for both companion. A car designed to make transfers without big and not very numerous groups. For 125 euros per week, we can rent it.
Renault Clio or similar. Move to the versions of four doors that offer more comfort at the time of moving us in group. Cheaper car in this range tends to be this model with up to five people and is equipped with air conditioning. By 130 euros weekly have the possibility of enjoying it.
Ford Fusion or Similar. Designed as a family vehicle, their movements will be more comfortable around the island. Five occupants and air conditioning are the characteristics more notable of this tourism. Also its price, that round them hundred fifty euros.
Citroen Berlingo or Similar. The cheaper minivan for lovers of this type of vehicle. Five-seat, four-door and air conditioning for those who need to travel with lots of luggage. For a hundred and fifty euros per week you can enjoy the car hire in Ibiza.
Ford Focus Estate or similar. An of the large options of the rental of cars in Ibiza if our concern not is the space to park but the luggage that have been aboard. Five-seater comfort and spaciousness available from two hundred and thirty euros per week.
Toyota Auris or similar. Enter in a range top of vehicles with this compact of four doors. A car with various extras and technology top. With capacity for five passengers, the car is available for a two hundred sixty euros a week.
Mercedes Benz class A because if we speak of Mercedes, and class a, little more we can add. Five seats, comfort, space and technology of art by some four hundred euros weekly.
VW Eos or similar. The convertible cars are one of the best options to enjoy the fresh air of the island. Perhaps by that also is one of the more requested in the rental of cars in Ibiza. For a few hundred euros you can enjoy a whole week at the controls of a car that does not go unnoticed.
Ford Galaxy or similar. When the displacement can perform it in groups, an option that it can go much cheaper is the rental of a minivan for up to seven people. If discount the saving in gasoline probably its cost does not seem as excessive.
Mercedes Benz Vito or similar. The minivan with more capacity in the market. A displacement for nine people with all the class that this type of vehicles can add. The price tends to be consistent with the brand and for a thousand two hundred euros per week we have it available.
In Soloibiza we have sought the best suppliers offering prices of the most reliable companies that we can find in the market. You can check availability and price on our car rental in Ibiza