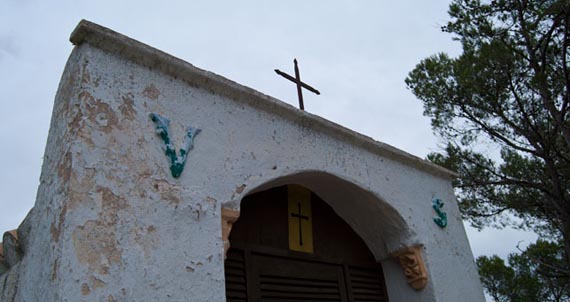 Capelleta d ' in Serra
We bring you one of the most unique places in the deep Ibiza. No matter your beliefs religious, you only need a good pair of legs and desire to see one of the best views over the salt flats that can be found on the island of Ibiza. The venue, the
Reaching Capelleta d' Serra
Capelleta d' Serra is located within walking distance of the town of Sant Josep, in the sierra this. To reach the base of the small mountain we have to climb, we will have to take a small detour to the left, located at the exit of Sant Josep in the direction of the airport. After leaving the main road we go down a dirt road that goes around the mountains. After travelling about five kilometres the road is completed and we should abandon the car in front of a few steps.
The ramp is the only paved road that we will reach the chapel. His ascent is makes something heavy, but deserve the penalty. Starting from this point follow the path that US leads directly to capelleta d ' in Serra. A few meters before, we find a curious wrought space rock for the mass celebrated in the procession from the chapel. Here we find the first views to the salt mines and Formentera. After a short break, we can continue to the Chapel, whose door is open throughout the year.
The small Capelleta d' Serra and his views
The Chapel is a small building recently, of principles of the century XX. A room only topped in the exterior by a cross under which rest the initial V and S. If you question its meaning, is well simple. Vicente Serra was its Builder, and, according to the writings found in the interior, Vicente Serra was a peasant who attended the Algiers war. Before starting their journeys he promised to lift the hood if I went back to life. After his return from the war, raised this place of pilgrimage even though it failed to see its opening five days before he died. Although safe that enjoyed with them magnificent views that offers the Chapel to all the saw of Sant Josep, cover of pine forests, the salinas, and Formentera.
As always, you can find more information, pictures and map on our tab of Capelleta d ' in Serra