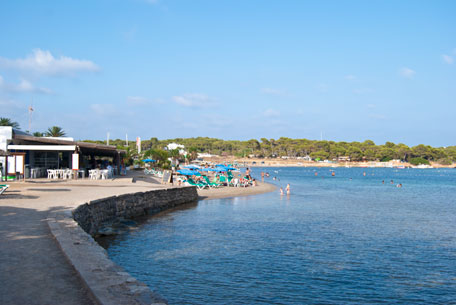 Once passed the bad drink from the "beach" S'Argamassa, continue our journey along the coast with the adjacent area, this time Yes, the PLAYA de Can Martina. This corner cozy, full service and with all the ingredients that we could expect from a large coastal stretch
How to get to one of the beaches of Ibiza more unknown.
Although our tour we did it on foot through the coast, get straight is much easier than it seems. We take the road that starts from Santa Eulalia to Es Canar. When you reach a Grove take the second turn right, in the direction of S'Argamassa, but this time, at the next crossroads a few metres, the road to the left. Follow the road straight ahead until we leave behind a curve to the left. Again take the first turning on the left and continue straight ahead until the end. If it seems complicated to you can consult this map., where you also have more information about buses and accommodation.
That I find on the beach of Can Martina
As one of the most complete beaches in terms of services, without losing even for a moment the charm of natural landscapes that the Ibizan coast offers. Already there are water sports that can be practiced. The beach has a school and the equipment necessary for sailing catamaran, do a bit of surfing or perform with Canoe excursions. It is the charm that produce the bars perfectly distributed and integrated along the coastal stretch.
The beach is family, perfect for the enjoyment of children. We could almost say that it was thinking of them. The site is purely natural, with large trees surrounding the area quite broad, Sandy. The slope of the bathing area is smooth, reaching two meters in the area buoyed, suitable for bathing. Perhaps too many hammocks, but that assures us the power catches one. In the background are small islands, perfect for a stroll in a small boat. Can Martina Beach ends with a few small fishermen's huts of fishermen, ideal places for those who don't like sand.
And it is that it Can Martina is one of those remote places which only enjoy some touristy and residents who know the area.